Tournament Summary
Florida back in first at USTA Boys' 18 Team Championship
by Marcia Frost, 6 August 2010
It's been a long time since the team from the Florida section held up the trophy at the USTA Boys' 18 Team Championship, but they were back in the winners' circle this year with a steamy finish.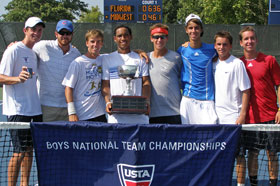 For five years, the team from the Southern California section ruled the court at the Boys' 18 team event once called the Junior Davis Cup. Last year they were dethroned by Midwest, proudly playing in their home locale. Things were different this year thanks to a very resilient
Gonzales Austin
, who played through temperatures in the 90s on the Khan Outdoor courts at the
University of Illinois
' Atkins Tennis Center. Austin survived the heat to secure his 5-8 seeded Florida team a place in the finals after it came down to a grueling, 4-6,7-6(7) 7-6(4) win over Southern California's
Daniel Kosakowski
, a
UCLA
recruit.
The other team in the final had landed there without as much fanfare. The third-ranked Midwest was still riding the high of last year's first-ever win and used it to eliminate the unranked Southern team, who had upset No. 2 Texas in the second round (4-3). The win was fittingly clinched by Robert Stineman, an Illinois native who had won his year's state high school championship, giving his Midwest team a 4-1 win.
Heat and humidity continued in Urbana for the final match. Two of the doubles matches went to tiebreakers with Florida taking the deciding two out of three for the first point. It was a sign of things to come as the players tried to stay hydrated while battling for their teams in this college format, with on court coaching and lots of cheering. Stineman would quickly tie the score with a 6-3,6-1 victory. Florida was right back in the lead when Gonzales Austin, who had a slow start after the long semi the day before, took a win on Nick Chappell's retirement, but Gregory Andrews - who is starting at Notre Dame this fall - answered back with a win of his own. The team score was tied at 2-2.