College Commitment
Fall Signing Week '10: Flores to the Utes, PAC-10
by Rhiannon Potkey, 9 November 2010
Danielle Flores sat by her father's hospital bed conveying her lifetime goals and tennis aspirations.
She detailed her plans to improve as a player and how much it would mean for her to play college tennis.
Flores' father died a short time later, but his memory continues to inspire her.
Just like she vowed she would two years ago in that Arizona hospital room, Flores received a college scholarship.
The Carlsbad, Calif., resident will be signing a letter of intent to play for the University of Utah.
"My dad would have been ecstatic," Flores said. "He loved tennis so much, and would always call me to ask how I was doing in tournaments and watched me play when he could. I know that he would be overjoyed and really proud of me."
Flores' father died from amyloidosis, a rare disease that occurs when substances called amyloid proteins build up in the organs.
In his case, it attacked his heart.
Flores thought she had come to terms with her father's death, but didn't realize the lingering psychological toll it would have.
Her tennis went into a "deep valley" and she constantly felt lethargic.
She could hardly summon the strength to lift her racket, and lost her appetite.
Flores was tested for mononucleosis, but it came back negative.
As the months passed, she became scared she might never recover and considered stopping tennis.
But Flores finally received a proper diagnosis of depression, and gradually began to emerge from her sadness.
"I was in such a deep hole, and it took me a while to get out of it," said Flores, a senior at Santa Fe Christian High. "It was really hard, but I realized I really wanted to do the best I could for my dad in tennis and acted on it. That was a big moment in my tennis career."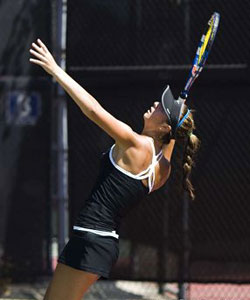 Flores
started playing tennis seriously at age 13
© Julie Wrege, TennisRecruiting.net
Flores didn't start playing the sport until she was 10 and her family moved from Wisconsin to California.
At first, Flores was playing just a few times a week for fun. But it soon became obvious she had talent, and Flores began entering tournaments at age 13.
"I did awful in the beginning. I was terrible. I was getting beat like 0 and 0 and 0 and 1 for a long time," Flores said. "But I just didn't give up because I really liked playing, and soon I started to get some random good wins and it brought my ranking up and built up my confidence."