Tournament Summary
Rhyne Williams and Maria Sanchez Claim Indoor Titles by Outlasting Defending Champions
by
Colette Lewis
, 15 November 2010
The venue was new and so were the champions at the 2010 USTA/ITA Indoor Intercollegiate Championships.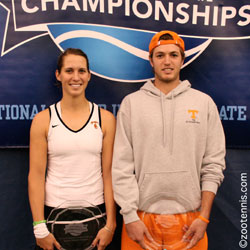 Maria Sanchez of the
University of Southern California
and Rhyne Williams of the
University of Tennessee
captured their first collegiate majors the hard way - by defeating the defending champions in the final. Sanchez, a senior from Modesto, California, beat Jana Juricova of the
University of California-Berkeley
6-2, 3-6, 6-4, while Williams ended the reign of
Southern Cal
's Steve Johnson 1-6, 6-1, 6-4.
Held for the first time at the Indoor Training Center at the USTA Billie Jean King National Tennis Center in Flushing Meadows, the state-of-the art facility on the site of the U.S. Open added stature and excitement to the event, hosted by Columbia University November 4-7.
A trip into Manhattan was squeezed into nearly every player's schedule, while performing on the well-lit courts in front of the USTA's head of Player Development Patrick McEnroe also added a jolt of energy to the competition.
In Sunday's finals, the spectators included the coaches, parents and players attending the Eastern section's annual College Showcase, as well as former New York mayor David Dinkins, a USTA board member. All were treated to excellent tennis in the two simultaneously played finals, which concluded with two unexpected winners.
Although Williams wasn't seeded, the sophomore from Knoxville, Tenn. made an early statement when he downed D'Novo ITA All-American champion and top seed Alex Domijan of Virginia in the first round. Williams' 7-6(8), 7-6(5) victory over the nation's top-ranked freshman was the first loss of Domijan's collegiate career.
Domijan was not the only seed to learn first-hand the depth of the 32-player field. After two rounds of play, only Johnson, the No. 7 seed, was still alive, with his dominance on serve during the tournament making him the favorite in the final.