College Feature
Memphis Tigers Find a Home to be Proud Of
by Joshua Rey, 19 January 2011
Prior to the opening kickoff of football season, and before basketball fans can catch midnight madness, college coaches are competing for commitments from recruits.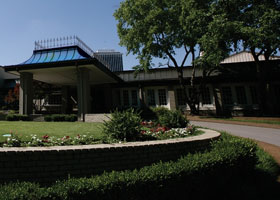 And a prized running back wants to work out in a state-of-the-art gym just as much as a 7-foot center wants to dunk inside of a 20,000-seat arena.
The same holds true for tennis players who are seeking scholarships before graduating to the ATP and WTA tours.
So imagine being a college coach without a court to call home.
That's the jam Paul Goebel found himself in soon after taking over the University of Memphis men's tennis team in 2004.
The Tigers' on-campus courts were deemed unplayable the following season. Rebar cracked through the concrete to create a hazardous situation for everyone involved, especially a coach trying to build a winning program.
"It was very difficult," said Goebel. "We had a lot of positive things going on at the university and in the city, and players liked that. But when we would bring them in on recruiting trips and talk about a facility, we didn't have anything. We could only talk about what we wanted to accomplish in the future."
For five seasons, the Tigers jumped around town - playing and practicing at public parks, high schools, and Rhodes College. All the while, they fundraised for a new facility and waited for a lawsuit on their old one to end.
They'd still be waiting today if not for a partnership with the Racquet Club of Memphis, which this season became the full-time home of U of M men's and women's tennis.
Goebel now has six resurfaced courts, renovated locker rooms and a refurbished player's lounge to show off.
Welcome to the future, coach.
"We're one of five schools whose home facility hosts an ATP or WTA tournament; that's a really big recruiting tool for us," said Memphis women's coach Lee Taylor Walker. "Then there are the locker rooms and the player lounge. Our program has never even had that in the past."