College Feature
David Roditi Looking to Forge Ahead at TCU
by Granger Huntress, 26 January 2011
When the head men's coaching job opened this summer at Texas Christian University, one name stood out from the others as a possible replacement - David Roditi.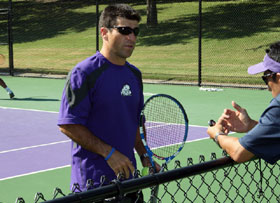 TCU
Coach David Roditi
courtesy, TCU Athletics
Roditi had been a standout player for the Horned Frogs in the mid-90's before playing professional tennis. A 1996 graduate of TCU, Roditi had always dreamed of one day being the head coach.
There was only one problem - he loved his current job at the USTA.
"Every time I made a move," explains Roditi, "in the back of my mind I was thinking how it would help me become the TCU Men's Coach.
I could've been with the USTA for many, many years. Just two weeks earlier I told someone I could see myself there for the next 20 years. But this (Fort Worth) has always been my second home."
The Road to Fort Worth
Born in Mexico, Roditi's family moved from Guadalajara to the coastal town of Manzanillo when he was 12 years old, where he turned out to already be the best tennis player in the entire town. He then spent a year at a boarding military and tennis academy that he would sooner like to forget before heading to the U.S.
Roditi's mom is an American and wanted David to have the chance to train, so they packed him up and sent him to live with Bob Clauson in Southern California.
He blossomed in the USTA system, gradually climbing up the ranks, but did not play any ITF or international events. Then during his junior year, his mother, brother and sisters moved to San Clemente, California and his family was reunited for the remainder of his high school career.
The Playing Days at TCU
Roditi enrolled at TCU to play for the legendary "Tut" Bartzen in the fall of 1992. At the time, he was the highest-ranked U.S. recruit the Horned Frogs had signed.
"It was the best times of my life," recalls Roditi. "It was a time when my game went to the next level. I also made so many relationships."