Recruiting Feature
2011 Top Mid-Major Men's Classes
by TennisRecruiting.net, 3 June 2011
Two weeks ago, TennisRecruiting.net began publishing its annual recruiting class rankings.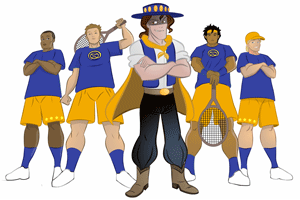 We continue our rankings today with a look at the top college recruiting classes from the "mid-major" programs - programs outside of the so-called "high-major" conferences that are slotted into BCS football bowl games.
Many mid-major schools compete at a very high level. In Division I post-season play, mid-major teams posted nine match wins in the 2011 NCAA team tournament, sending two teams through to Stanford. Mid-major schools have won national titles in the singles, doubles, and team events.
Many quality teams also compete in Division II, Division III, NAIA, NJCAA, and CCC - where they vie for national titles every year.
Top 25 Mid-Major Men's Recruiting Classes (through May 20)
Today, the Tennis Recruiting Network is excited to present the Top 25 Mid-Major Men's Recruiting Classes for 2011.
The mid-major rankings include all colleges in all divisions except for those in the "high-major conferences". The high-major conferences for tennis include schools affiliated with Bowl Championship Series conferences - the ACC, Big East, Big 10, Big 12, Pac 12, and SEC - as well as the Ivy League.
As is our policy, in these rankings we did not consider incoming transfer students.
Without further ado, here are our Top 25...
Honorable Mention
Other men's programs that received strong consideration from our experts are (listed alphabetically): Air Force, Bryant, Duquesne, Kenyon, Lehigh, Mary Washington, Redlands, Richmond, Wash U. - St. Louis, Wright State.
Head of the Class
Head Coach Marty Davis and his UCSB Gauchos have to be excited about the four newcomers coming to Santa Barbara this fall. The quartet is led by in-state Blue Chip Gregory Scott, a recruit that we profiled back in the fall. Add in a pair of outstanding players from overseas Mons Knudtzon (Norway) and Ziad Sultan (Kuwait) - in addition to Mbonisi Ndimande, a top junior college transfer who represented Zimbabwe in Davis Cup competition - and you get the top recruiting class among mid-majors.
The U.S. Naval Academy was a close second, bringing in a quartet of talented recruits of its own. The highest-rated of those recruits is Calvin Mark, winner of the Easter Bowl doubles title in 2009.
George Washington - whose recruiting class includes a pair of recruits with ATP ranking points - checks in at No. 3 on our list. The New Mexico Lobos and Fordham Rams round out the Top 5.
State Breakdowns
The 25 schools in our recruiting class rankings have a broad geographical spread - representing 16 states and the District of Columbia.
As usual, California teams are making a strong showing, with five programs appearing in our list. In addition to top-ranked UC Santa Barbara, ranked teams from the Golden State include Claremont-Mudd-Scripps (No. 7), UC Irvine (9), San Diego (11), and UC San Diego (24).
Other states with multiple programs in the rankings are Georgia, Maryland, North Carolina, and New York - all with two programs apiece.
Conference Call
The Atlantic 10 and SoCon each have three programs in the Top 25 to lead all conferences.
All of the A10 representatives are among the Top 6: George Washington (No. 3), Fordham (5), and Charlotte (6).
Teams the from SoCon in the rankings are Elon (10), Furman (12), and Georgia Southern (25).
Other Division I conferences with multiple representatives in the rankings are the Big West, Conference USA, Mountain West, and Patriot League.
Also of note in these rankings are five programs outside of NCAA Division I. UC San Diego (No. 24) represents Division II, while Division III is represented by Claremont-Mudd-Scripps (7), Johns Hopkins (8), Emory (20), and Carnegie Mellon (21). Look for these four D-III schools in our upcoming D-III recruiting class rankings.
Next Wednesday... The Women
Looking for the women's list? Come back on Wednesday. On June 8th, TennisRecruiting.net will release its ranking of the top 25 women's mid-major recruiting classes. Shortly afterwards, we will wrap up this ranking season with our lists of the top NCAA Division III programs.
Leave a Comment
More Recruiting Class Rankings
21-Jun-2019
2019 Top NCAA D-III Women's Classes
The Tennis Recruiting Network wraps up its spring recruiting class rankings with a look at the D-III women. Today we present our list of the Top 25 NCAA D-III women's recruiting classes for 2019. This year, a new program has Engineered its way to the top of the rankings for the first time ever.
17-Jun-2019
2019 Top NCAA D-III Men's Classes
The Tennis Recruiting Network is excited to present its recruiting class rankings for NCAA Division III conferences. Today we unveil our Top 25 D-III men's recruiting classes for 2019. For the fourth time in five years, our top-rated class comes from the Windy City.
14-Jun-2019
2019 Top Mid-Major Women's Classes
TennisRecruiting.net is back today with more rankings of mid-major recruiting classes. Today we present the Top 25 mid-major women's recruiting classes for 2019. Check out the top of the rankings - where the Waves are cresting.