NCAA Championship Summary
Florida and Southern Cal Win Thrillers to Claim 2011 NCAA Titles
by
Colette Lewis
, 27 May 2011
The 2011 Men's and Women's Division I NCAA Championships was a riveting event from start to finish, culminating in the most exciting day of college tennis since the men's and women's events were combined in 2006.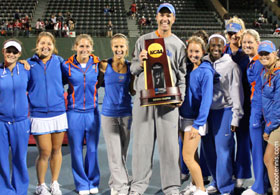 In two excruciatingly exciting 4-3 matches, the second-seeded
Southern California men
claimed their third consecutive team championship over top seed and undefeated
Virginia
, while the
University of Florida women
, also seeded No. 2, avenged last year's heartbreaking loss to top seed and undefeated
Stanford
, ending the longest home winning streak in NCAA history.
It wasn't just the tournament's climax produced excitement, however. Throughout the six days of competition, held at the Taube Family Tennis Center on the Stanford University campus, match after match was prolonged and fiercely contested. The usual separation between the top four teams and the other 12 was not evident, and there were more matches decided by 4-3 scores than 4-0 scores.
For all the parity however, the top two seeds in each division advanced to the finals, a rare occurrence. The last time No. 1 met No. 2 in the women's tournament was 2003, when second seed Florida beat Stanford 4-3 in Gainesville, and after last year's exciting final, there was no doubt the best rivalry in women's college tennis had been restored.
In Tuesday's final, Stanford's home court winning streak, which extended back to 1999 and had reached 184 matches, seemed destined to continue when the Cardinal took five of six first sets in singles play.
Florida had claimed the doubles point, as they had in the 2010 final, but Stanford's singles lineup, even without an injured Kristie Ahn, was formidable.
With their team up 3-1, after wins by Hilary Barte, who beat Allie Will 6-2, 6-4 at No. 1, Nicole Gibbs, who defeated Sofie Oyen 6-4, 7-5 at No. 3 and Stacey Tan, who outlasted Joanna Mather 3-6, 6-2, 6-4 at No. 4, the Stanford crowd was brimming with optimism in anticipation of national title number 17.
When sophomore Mallory Burdette, who clinched the title over Florida's Marrit Boonstra last year 7-5 in the third, took a 4-0 lead over Florida's Lauren Embree, there seemed little doubt the other two matches on court would be rendered meaningless.