NCAA Championship Summary
Top Seeds Johnson and Juricova Capture NCAA Titles
by
Colette Lewis
, 2 June 2011
The top-ranked players in Division I college tennis when the NCAA individual tournament began, Southern California's Steve Johnson and Cal's Jana Juricova proved worthy of those numbers on Monday when they claimed NCAA singles titles at the Taube Family Tennis Center at Stanford University.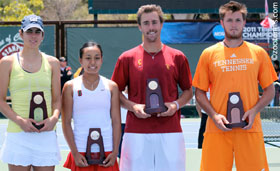 Johnson, named the most outstanding player of the team tournament for leading USC to its third consecutive
national title
, played eight straight days from the team semifinals to the individual final, but unlike the previous two years, the junior from Orange, Calif. didn't let down physically or mentally.
"My body was so fatigued the last two years," said Johnson. "This year I felt I put in a lot of work off the court to be ready for this type of week again - to make a deep run in the event and then come out and play another six days in a row for the individual."
Johnson was assisted by the unseasonably cool weather that prevailed throughout the 12 days of competition, a marked contrast to the conditions in College Station, Texas and Athens, Ga., where USC won its last two titles.
"It's been great weather all week," Johnson said. "The body feels better not taking a beatdown from the sun when you're on the court so much."
Johnson didn't spend an extended period of time on the court during the individual tournament, but he did have one marathon: his 7-6(3), 3-6, 7-6(2) third-round victory over Tennessee's JP Smith that lasted just over three hours.
Johnson trailed 4-2 in that final set, but capitalized on Smith's inability to get a first serve in at 4-3, breaking to pull even. In the deciding tiebreaker, Johnson made every first serve and finished off the eight-time All-American from Australia with an ace and a service winner.
Johnson's semifinal win over No. 3 seed Michael Shabaz of Virginia was shorter than it was expected to be, when Shabaz retired with Johnson leading 7-6(4), 4-2. The Cavalier senior had disputed two line calls, the first a chair umpire overrule on his set point at 5-6 in the opening set, and the second a no-call on a Johnson serve Shabaz believed was out at 6-4 in the tiebreaker.
Shabaz appeared to have regained his equilibrium early in the second set, but when he was given a point penalty for sending a ball out of the stadium when he swatted at it after a missed first serve on break point at 2-3, Shabaz walked to the net, shook a stunned Johnson's hand, packed up his racquet and left the court.
Johnson's abbreviated stay on court may have helped him in the final, because his opponent, Rhyne Williams of Tennessee, had engaged in a slugfest with Volunteer teammate Tennys Sandgren in the other semifinal. Williams beat the unseeded Sandgren 6-3, 3-6, 6-0, with the first set an especially grueling one, consisting of many rallies of 20 and 30 balls.
Williams initially showed no effects from that match in the championship contest, taking the first set from Johnson 6-4, using excellent returns, forehand winners and few errors to keep Johnson at bay. But Johnson found his serve and forehand early in the second set, and Williams couldn't summon the energy he needed to bring his game up to Johnson's level.