College Feature
NCAA Champion Johnson Fulfills Dream as Practice Partner for USA Davis Cup Team
by
Colette Lewis
, 15 July 2011
Most years, the Campbell/Intercollegiate Tennis Association's Players of the Year experience the highlight of their collegiate careers during the second weekend in July. This year Cal's Jana Juricova, the NCAA champion and women's player of the year, was on hand to receive her award during the International Tennis Hall of Fame induction ceremonies at the ATP event in Newport, Rhode Island. But the men's winner, University of Southern California's NCAA champion Steve Johnson, couldn't make it. He was in Austin, Texas, serving as a practice partner for the US Davis Cup team's quarterfinal tie with Spain.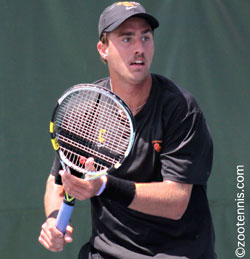 "It was kind of a tough situation," Johnson said of having to choose between the two events.
"I played college tennis all year and I'm still a college student, and want to play another year of college tennis, and that's the culmination of such a good year," said Johnson, who ended the 2010-11 season on a 35-match winning streak and plans to return in the spring as the Trojans aim for their fourth straight NCAA team title.
"You get honored in front of a ton a people for your success. Especially this year, with (Andre) Agassi going in, it was even bigger. But I knew once I got the award and once I got invited to do Davis Cup, that my dad would be willing to go and accept it."
Although Steve Johnson Sr. served as his son's coach throughout his junior development, he could not substitute for him on the courts in Austin, where Andy Roddick, Mardy Fish and the Bryan brothers needed the help of three collegians to prepare for a deep and experienced Spanish team. So Johnson senior headed to the east coast to pick up the award, while Johnson junior flew directly from the Winnetka, Ill. challenger to the heart of Texas for ten days of practice with the team of American veterans.
Johnson, the only right-hander in the trio of college All-Americans that included Michigan's Evan King and Stanford's Bradley Klahn, often found himself across the net from Roddick during those practice sessions.
"I hit predominantly with Andy most of the week because he was going to play a right-hander, (David) Ferrer, on Friday," said the 21-year-old from Orange, Calif. "Bradley and Evan pretty much switched off or did two-on-ones with Mardy, since he was going to play a lefty the first day.