College Feature
Virginia's Frank, SMU's Lesniak Capture USTA/ITA Indoor Intercollegiate Championships
by
Colette Lewis
, 14 November 2011
The men's and women's USTA/ITA National Indoor Intercollegiate Championships shared the same dates and venue, but the USTA Billie Jean King National Tennis Center in New York was the scene of strikingly different conclusions earlier this month.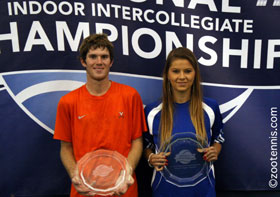 Both the men's singles and doubles titles went to October's ITA
All-American champions
, with top seed Mitchell Frank of
Virginia
defeating Dennis Nevolo of
Illinois
6-3, 2-6, 7-5 in singles and No. 2 seeds Chase Buchanan and Blaz Rola of
Ohio State
taking their second straight doubles major with a 4-6, 7-5, 6-2 victory over No. 3 seeds Clifford Marsland and Ashley Watling of
Tulsa
.
The women's champions came from the unseeded ranks however, with Marta Lesniak of SMU making school history with a 7-5, 6-1 win over unseeded Joanna Mather of Florida in the final, and USC's Kaitlyn Christian and Sabrina Santamaria giving their school its first-ever Indoor doubles title with a 4-6, 6-4, 6-3 victory over No. 3 seeds Kristy Frilling and Shannon Mathews of Notre Dame.
Frank has yet to lose a match in college tennis, with the freshman from Annandale, Virginia running his winning streak to 12, the last 11 coming against the country's top players. Although he dropped a set to unseeded Alex Musialek of Kentucky in the second round - one of only three sets he has lost in his brief college career - Frank rebounded to finish that match 6-0. After routine victories over unseeded Costin Paval of Oklahoma and No. 5 seed Henrique Cunha of Duke, Frank found the eighth-seeded Nevolo standing in the way of his second major.
Nevolo, a senior from Gurnee, Illinois, was seeking to avenge his quarterfinal loss to Frank in one of the strangest college matches of the year, at the All-American championships in Tulsa. Nevolo had won the second set from Frank and had all the momentum, but an extended bathroom break cost him nine penalty points and Frank went on to win the third set 6-0.
After an exhilarating 6-7(5), 6-3, 6-4 win over unseeded Kevin King of Georgia Tech in the quarterfinals and his first win in six tries over No. 4 seed Eric Quigley of Kentucky in the semifinals, Nevolo's confidence was high heading into the Indoor final.
Frank was ready however, capitalizing on Nevolo's unforced errors to take the first set, despite being broken twice.
The second set was on serve until Frank was broken at love serving at 2-3, and Nevolo's all-court game, which included several deft drop shots and perfectly executed volleys, prevailed.
"He started to come in on everything, and he volleys so well it's tough to pass him and get openings," said Frank. "Indoor he's able to take the ball earlier and I had less time to pass. He was putting me under so much pressure, not staying back like the other guys had and he has some of the best volleys in college tennis."