College Feature
Michigan Survives Yale to Advance to ITA Team Indoor
by
Colette Lewis
, 2 February 2012
Although only a sophomore, Michigan's Brooke Bolender had already felt the sting of losing the last match in an important dual contest.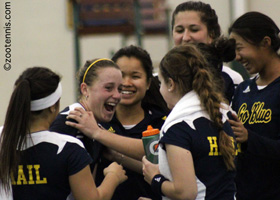 So when she faced a tiebreaker against
Yale
's Blair Seideman Sunday at No. 2 singles, with a place in the
ITA Team Indoor Championships
on the line, Bolender was prepared.
"It was definitely good that I was in that situation last year as a freshman," said Bolender, who had lost a third set to Northwestern's Belinda Niu to give the Wildcats a come-from-behind 4-3 win in the championship match of the Big Ten conference tournament last spring. "I felt a little more comfortable this year."
That maturity was most evident when Bolender broke Seideman to serve for the match at 6-5, then lost her serve at love. Rather than succumb to any self-inflicted stress, Bolender went on to play a flawless tiebreaker, earning a 6-3, 7-6(2) victory and a 4-3 win for No. 10 Michigan over No. 35 Yale in the final match of the ITA Kickoff weekend at the Varsity Tennis Center in Ann Arbor.
"I hadn't lost serve like that the whole match," Bolender said of her failure to win a point in the 12th game. "I just kind of missed the first ball of every point because of nerves. But I knew I had to close it out in the breaker, because I didn't want to go to a third. I was actually less nervous in the tiebreaker, I kind of loosened up, I don't know why."
Bolender was impressive on both defense and offense in the tiebreaker, forcing Seideman into an overhead error after some first-rate scrambling to take a 3-0 lead, then using her forehand for two winners to make it 5-1. Bolender cracked an ace to give herself five match points, made a rare error on the first, but converted on the second, when she forced an error from Seideman with an excellent return of a good first serve. That set off an exuberant celebration by her Wolverine teammates and coaches, along with a rendition of the famous Michigan fight song "The Victors."
Despite the close score, the singles matches were all decided in straight sets. But the doubles point, which went to Yale after an hour and 45 minutes, featured plenty of twists, turns and changes in momentum.