College Feature
UCLA Downs Duke for First ITA Women's Team Indoor Title
by
Colette Lewis
, 16 February 2012
In her 16 years heading the UCLA women's tennis program, Stella Sampras Webster's teams had reached the NCAA finals three times, winning the title in 2008. But the Bruins had not had the same success at the ITA Team Indoor Championships. That all changed Monday, when the contributions of its four outstanding freshmen culminated in a 4-0 UCLA victory over top seed Duke for the Bruins first Team Indoor title.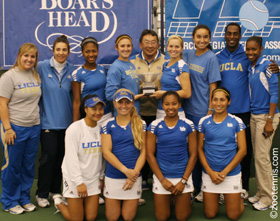 The tournament's first round brought several upsets, including
Tennessee
's surprisingly easy 4-0 victory over No. 3
Baylor
. Duke barely escaped
Ole Miss
, winning 4-3 when Annie Mulholland clinched for the Blue Devils in the third set of the last match on. Sixth seed
North Carolina
fell to
Southern California
, and No. 7
Virginia
disappointed the home fans at the
Boar's Head Sports Club's Boyd Tinsley Courts
by falling to
Northwestern
, the 2009 and 2010 Team Indoor Champions.
UCLA, seeded second, began its quest for the title by losing the doubles point to Georgia Tech, but rebounded for a 4-2 win in a match that ended just five minutes before midnight. McCall Jones' loss to Yellow Jacket Elizabeth Kilborn was the last point the Bruins would surrender in the tournament, but their 4-0 wins over USC in the semifinals and Duke in the final were anything but routine.
Playing four freshman - Robin Anderson, Skylar Morton, Chanelle Van Nguyen and Kaitlin Ray - in the singles lineup, Sampras Webster wasn't quite sure how the untested quartet would perform against top tier competition.
"Coming into this tournament, I really didn't know what to expect," admitted Sampras Webster. "We are the second seeds, but we hadn't proven anything with this team, so to battle against Georgia Tech in a tough match, and beating Northwestern, I think we've played better and better throughout the tournament."