College Feature
Cavalier Freshman Frank Makes Quick Ascent to Top of Rankings
by
Colette Lewis
, 5 March 2012
Less than a semester into his college career, University of Virginia freshman Mitchell Frank had already put his name in the exclusive company of Harvard's James Blake, Michigan's MaliVai Washington and Arizona State's Sargis Sargsian, the only other collegians to have won both the ITA All-American and USTA/ITA Indoor Intercollegiate Championships. Frank's titles in Tulsa and New York propelled him to the top of the Campbell/ITA national rankings, even though he is now playing in the No. 3 singles slot for the star-studded Cavaliers.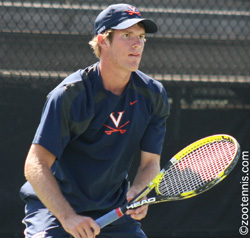 Many a great junior has had difficulty adjusting to the college game, but the 19-year-old right-hander, who was a
finalist in Kalamazoo
last year and was ranked as high as fifth in the ITF World Junior rankings in 2010, isn't one of them.
"Coming in, I'd had a really good summer, I'd done well in the Futures, had a good Kalamazoo, then had a good [US] Open, won my first round of qualifies," says Frank, who grew up in Annandale, Virginia.
"So coming in, I felt like I had a lot of confidence, and in the back of my mind, I thought if I could compete with those guys, I could compete with the guys here. I never thought about winning them both, just winning one match at a time, but I was thrilled with my fall, and it's nice to be on a list with guys like Blake, Sargsian and Washington."
Despite Frank's rare accomplishment, he wasn't among the eight players invited to the USTA's Australian Open Wild Card tournament last December, and although Frank says the slight was "no big deal," it represents the conventional thinking regarding his game.
"When he won the boys 14s Clay Courts, everybody, USTA, everybody, was saying when he moves to the 16s, he has no chance," says Vesa Ponkka, who has coached Frank since he began attending the Junior Tennis Champions Center in College Park, Md., at age 14.
"Then in 16s, he goes to the Orange Bowl final and everybody is saying, oh, when he moves to the 18s, he has no chance. Then he becomes No. 5 in the world in the ITF, and everybody says, well juniors, okay, but in college, they are going to kill him. And in eight weeks, he becomes No. 1 in the country. Now of course, everybody is saying he still has no chance at the pros, and I can promise everybody he will be a top 100 ATP player. There's no question in my mind."