College Feature
Trojans Take Inaugural Pac-12 Team Title in Ojai
by Keith Kropp, 1 May 2012
The USC vs. UCLA rivalry is as intense as any in collegiate sports. While the Trojans and Bruins have waged some memorable battles in football and basketball, the fierce competitiveness between the two Southern California schools also extends to the tennis court.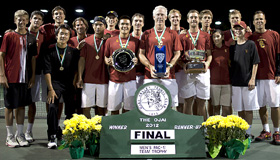 2012 Pac-12 Champions -
USC Trojans
courtesy, Pac-12 Athletics
The
Pacific-12 Conference Tennis Championships
were played last week in Ojai, Calif., as part of the 112th annual Ojai Valley Tennis Tournament and top-ranked USC and No. 5 UCLA staged a well-played and hard-fought men's final before a packed crowd at Libbey Park on Saturday night.
The Trojans earned a 4-2 victory, avenging a 4-3 loss to the Bruins just eight days ago. The teams have played three times this season (USC leads 2-1) and could meet again in a few weeks at the NCAA Championships in Athens, Ga.
USC's victory also ushered in a new era for Pac-12 men's tennis at the longest running amateur tennis tournament in the nation. In a significant departure from tradition, the Pac-12 men have abandoned the individual tournament it has used for decades in favor of the team format all college teams play in the winter and spring.
Instead of 16-first round individual matches to open play, Washington defeated Arizona 4-0 in the opening first-round dual match on Wednesday afternoon. Cal and Stanford eventually joined USC and UCLA in the semifinals, where the Bruins and Trojans had little trouble advancing to Saturday's final.
USC senior Daniel Nguyen, who has enjoyed a lot of success at The Ojai as a junior and in his four years as a Trojan, was pleased to be part of the first team event at this long-running tournament.
"It was a great experience," Nguyen said. "I really enjoyed it. The fans were great and this helps us prepare for the NCAAs."