College Feature
Bolender Leads Michigan over Texas A&M for Sweet 16 Berth
by
Colette Lewis
, 14 May 2012
Brooke Bolender is no stranger to the pressure of a deciding match in an important dual. Two weeks before she and her teammates met Texas A&M in the NCAA Division I regional final Saturday, Bolender had lost a third-set tiebreaker in the Big Ten conference tournament final, giving the Purdue Boilermakers a surprising title.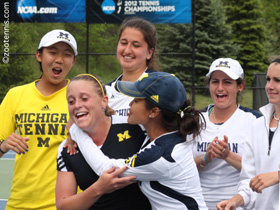 But on a cloudy afternoon in Ann Arbor, the sophomore from Delray Beach, Fla. had another chance, and with the home crowd erupting on every point in the final set, she defeated Nazari Urbina 2-6, 6-4, 6-2 at No. 2 singles to put the 15th-seeded
Michigan Wolverines
in the Sweet 16 for the third consecutive year.
"It was awesome," Bolender said of the atmosphere at the Varsity Tennis Center. "There were a lot of people here and they were all clearly on my side, which was really, really nice. It was really fun to be at home and be able to win in front of the crowd."
The Michigan faithful were tested early, when the Wolverines lost the doubles point, then three first sets in singles.
Mimi Nguyen and Michelle Sulahian took control of their doubles match against the Aggies' No. 2 team of Urbina and Janelle Cuthbertson, and closed out an 8-2 win. With Texas A&M's Lauren Santacroce and Sheri Olivier up 6-3 against Kristen Dodge and Sarah Lee at No. 3, the focus turned to No. 1 doubles, where Bolender and Emina Bektas were two points from giving the Wolverines a 1-0 lead when Nguyen and Sulahian won.
Bektas and Bolender had been up a break twice against Aggies Cristina Sanchez-Quintanar and Wen Sun, but couldn't consolidate either time. Leading 7-6, Bektas and Bolender had Sanchez-Quintanar down 15-30 on her serve, but the Aggies held, broke Bolender in the next game, and Sun served out a 9-7 win for Texas A&M.
Dodge and Lee had broken Olivier serving for the match at No. 3, but the Aggies came right back to break Dodge to give Texas A&M the 8-4 win and a 1-0 lead.