College Feature
Johnson, Gibbs Claim NCAA Titles at Historic NCAA Division I Championships
by
Colette Lewis
, 1 June 2012
After the six-day team event, where the University of Southern California men earned their fourth consecutive title and the University of Florida women won their second straight, the individual portion of the 2012 NCAA Division I championships wasn't expected to approach those impressive heights. But the singles and doubles tournaments somehow found a way to equal it with one unprecedented accomplishment after another in the steamy, midsummer-like conditions at the Dan Magill Tennis Complex in Athens, Ga.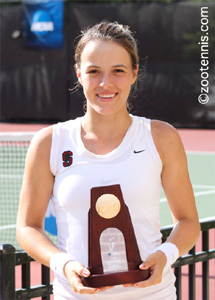 Take Steve Johnson of the University of Southern California. Not only did he capture a second consecutive singles title with his 6-4, 6-4 victory over No. 3 seed Eric Quigley of
Kentucky
, the top-seeded senior became the first player to win the team and individual championships in back-to-back years, finishing his career with an astonishing 72 straight victories.
Nicole Gibbs of Stanford, the No. 3 seed, had already made history, as had her teammate Mallory Burdette, by reaching the finals in both singles and doubles. No two teammates had met in the singles final and gone on to contest the doubles final too. Gibbs showed no emotional letdown after coming from behind to defeat Burdette 2-6, 7-6(5), 6-3 in a singles final she was on the verge of losing several times. Less than three hours later, the Cardinal pair earned the Stanford sweep, capturing the doubles over hometown favorites Nadja Gilchrist and Chelsey Gullickson.
Gibbs contributed to her reputation as a tough competitor in her second round encounter with Florida's Joanna Mather, who had a 3-0, two-break lead in the final set before the sophomore from Santa Monica, Calif. won the final six games of the match. She also ended the career of defending champion Jana Juricova of Cal in the quarterfinals, and eliminated top seed Allie Will of Florida in the semifinals.
The fifth-seeded Burdette, meanwhile, was breezing through the draw, surrendering three games or less in every set she played, including her 6-3, 6-2 quarterfinal victory over No. 2 seed Beatrice Capra of Duke. Burdette continued to look unbeatable in the first half of the final, leading Gibbs 6-2, 4-1 before the momentum shifted.
Burdette secured that advantage by hitting big and keeping her teammate on the defensive. She used her power to keep Gibbs running from side to side and tossed in a few deft drop shots and volleys for good measure. But at 4-2, Gibbs got her first break of the match, and the door opened.
"Gibbsy is very good at stepping it up when her opponent is about to close things out," said Burdette, a junior from Jackson, Ga. "That's kind of her specialty. She definitely made it tough out there for me in the end and I didn't have the guts to finish it today."
Burdette was two points from the match with Gibbs serving at 4-5, 0-30, but Gibbs won four straight points to make it 5-5. Burdette was again two points from the match at 5-2 in the second set tiebreaker, and again Gibbs seized control, taking the final five points to force a third set.
Rather than view her tough matches earlier in the week as a drawback, Gibbs believed they helped her in the final.
"I think it provided me with every advantage," the 19-year-old said. "A lot of people were asking me how I felt about that scenario leading into this match because they thought she would have the advantage going into the final, physically at least, but I was thinking to myself that I was very mentally conditioned, if not physically. I had been through every possible scenario this week - I saw a loss right around the corner in my second round against Joanna Mather and I was able to fight my way back into that one, so I knew I had it in me today, and it proved to be crucial."
In the third set, Gibbs got the only break with Burdette serving at 2-3, and began to play more aggressively, while Burdette's unforced errors, so rare this week, began to multiply. As dark clouds began gathering in the east, Gibbs served for the championship, and predictably, it wasn't all smooth sailing. She fell behind 15-30 with Burdette hitting two winners, saved a break point at 30-40 with an overhead, and after an error by Burdette, got to match point with an ace. Another good first serve that Burdette returned long gave Gibbs the NCAA championship, the 13th for a Stanford woman and first since Amber Liu in 2004.