Tournament Summary
Texas Repeats at USTA Boys' 18 Team Championships
by Marcia Frost, 6 August 2012
The University of Illinois at Urbana-Champaign had a practice run for what's to come when they host the 2013 NCAA Championships as the Boys' 18 Team National Championship brought all the USTA sections together to compete in college format.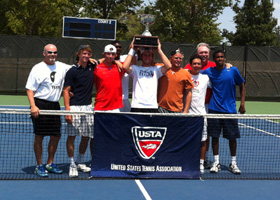 USTA Texas - Boys' 18 Team Champions
© Marcia Frost
One thing that wasn't a problem this year was rain at the Atkins Tennis Center and the Khan Outdoor Courts. With the area experiencing a drought, there wasn't more than a few sprinkles interrupting just a few minutes of play. Temperatures did remain in the high 90s, but everyone seemed prepared and stayed well-hydrated, especially the
Texas team
, who took home their second consecutive title.
The first round showed no surprises as all of the higher seeds advanced. Round two saw a different result as the middle of the draw contained two upsets, with Eastern (5-8) eliminating Northern California (3), 4-3, and Midwest (5-8) taking out Southern (4) by the same score. Eastern would fall to Texas in the semis, but Midwest took it all the way to the finals for their third final in four years, by causing yet another upset. This one was over top-seeded Southern California, a team that had won this title every year from 2004 to 2008.
It would take the Texas team, led by Texas A&M Coach Steve Denton, four and a half hours to get past Midwest for the title. The doubles alone took more than an hour, ending with Midwest taking the point with wins at No. 2 and No. 3. That lead would not last long, though, as Paul Oosterbaan was forced to retire with an injury at No. 4 singles, leaving the score tied at 1-1.
Konrad Zieba would bring in another point for Midwest and No. 6, followed by yet another at No. 3 by incoming Illini Brian Page. The Midwest team was up 3-1 and it looked like they would repeat their 2009 championship.