College Feature
Virginia's Domijan Collects Second ITA All-American Title
by
Colette Lewis
, 10 October 2012
After winning the 2010 ITA All-American championship as a freshman, the University of Virginia's Alex Domijan was unable to defend his title last year due to injury. Teammate Mitchell Frank kept the trophy in Charlottesville with his title last year, and there it will stay, after Domijan defeated unseeded Ohio State Buckeye Peter Kobelt 7-5, 6-1 in the championship match.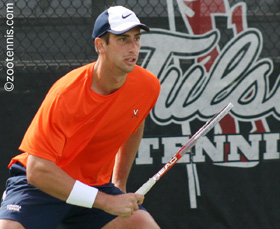 The weather was as unpredictable as the results last week at the Michael D. Case Tennis Center on the campus of the
University of Tulsa
. From a summer-like day for the first two rounds of singles on Thursday, to temperatures in the low 50s and a stiff north wind for the third round on Friday, to conditions so cold and damp that all matches were played indoors on Saturday, the weather presented challenges throughout the tournament.
So did the depth of the competition, with 11 of the 16 seeds exiting the tournament on the first day, including No. 2 seed Jarmere Jenkins of Virginia, No. 3 seed Evan King of Michigan and No. 4 seed Nik Scholtz of Ole Miss.
Domijan, the No. 6 seed, avoided the upset virus circulating, although he did have a close call in the semifinals against unseeded Matija Pecotic of Princeton, barely escaping with a 6-4, 6-7(6), 7-6(7) decision.
Kobelt, a junior who played No. 3 for the Buckeyes last season, started his run with a win over No. 10 seed Anthony Rossi of Kentucky and he too wriggled out of a tough spot in the semifinals, winning five of the last six games in his 7-5, 1-6, 6-4 victory over No. 8 seed KU Singh of Georgia.
In the quarterfinals, Kobelt had ended Virginia freshman Mac Styslinger's attempt to become the third straight Cavalier freshman to win the All-American, but after losing 6-4, 6-4 to the big-serving Kobelt, Styslinger didn't have much advice to offer Domijan.
"When I asked him where does he serve, (Mac) said 'I don't know, he mixes it up,'" Domijan said. "And then he said, hit to his backhand if you come in."