College Summary
Jenkins and Anderson Impress with USTA/ITA Indoor Titles
by
Colette Lewis
, 19 November 2012
Jarmere Jenkins of Virginia and Robin Anderson of UCLA were hardly prohibitive favorites at the start of the USTA/ITA Indoor Intercollegiate Championships, held earlier this month at the USTA Billie Jean King Tennis Center in Flushing Meadows, NY.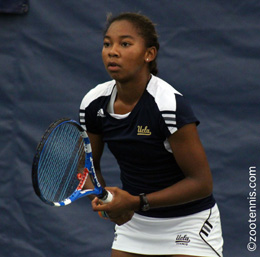 Anderson, seeded fifth, had come into the second collegiate major of the season as the champion of the Southwest Regional, but the sophomore from New Jersey did not play singles at the
ITA Riviera All-American Championships
in October, still nursing a back injury that had kept her off the courts most of the summer.
Jenkins, the No. 6 seed, experienced an uneven start to his senior season, losing in the second round to teammate Mac Styslinger at the ITA All-American Championships in Tulsa, then falling to another new teammate, freshman Harrison Richmond, in the Atlantic Regional final.
Once the Indoor tournament began however, Jenkins and Anderson found their "A" games, each reaching the final without losing a set. In the final, Jenkins played his best match of the tournament, defeating fellow wild card Sebastian Fanselow of Pepperdine 6-2, 6-1, while one court away, Anderson subdued a stubborn Anett Schutting of Cal 6-3, 6-4 to collect her title.
As the tournament approached, the aftermath of hurricane Sandy was still a concern, but with no damage to the Tennis Center, the decision was made to proceed. There were more anxious moments on the day before the tournament however, as a winter storm briefly closed LaGuardia airport. The four Oklahoma players who qualified for the event didn't make it, and several players did not arrive until Thursday, with the tournament already underway, but only one alternate in singles and two alternate teams in doubles were needed to fill the draws.
The upsets began almost immediately, with five of the 16 seeds losing in the opening round. Top women's seed Lauren Embree of Florida survived her first match, but was quickly dismissed in the second round by Zsofi Susanyi of Cal, who reached the semifinals.
With so many seeds exiting, Anderson didn't face a seeded player in her march to the final, where she met another unseeded player in Schutting. The junior from Estonia had also won her first four matches in straight sets, having dodged set points in both her second round and semifinal wins.
Although Anderson was also playing in her first individual collegiate major final, it was Schutting who appeared uncomfortable, dropping the first four games.
"During the first few games she was making a few errors, but after the first three games she kind of settled in," said Anderson, the first UCLA woman to win the Indoor title since Jane Chi in 1995. "She started making her shots, and she hits the ball so big, it was difficult for me to try to dictate against her. I actually did play a lot of defense today, making her play a lot of balls. When I did find opportunities to be aggressive, I tried to capitalize on it."
Anderson needed five set points before securing the first set with a break, but she again made Schutting come from behind, taking a 3-0 lead in the second set.
Schutting responded, with her heavy groundstrokes keeping Anderson scrambling, leveling the set at 3.
Three more holds gave Anderson a 5-4 lead, with Schutting needing to hold serve to extend the match. At 15-30, Anderson took a rare chance to be aggressive, working her way into the net, then knocking off a forehand volley winner on a blistering pass attempt by Schutting. Schutting saved one of the resulting match points when Anderson missed her return, but on the second, Schutting's forehand found the net, giving Anderson her first major title by a 6-3, 6-4 score.
"It feels great. I don't know how else to describe it," said Anderson, who believes her father's advice to have more fun on the court played an important role in her success. "I'm still kind of in shock. It hasn't sunk in yet, but it will soon."
Schutting will look back on the week as an important step in her college career, but believes she needs to find a way to improve her approach to finals.
"Being here in the final and playing it is just a really different feeling," said the Northwest Regional finalist. "I think I still have to learn to manage my emotions better. I felt like I wanted to play better today; especially in the beginning, I couldn't find my focus. I'm happy that at the end I was able to find it, and I competed better. She's a great player, has a great serve, great shots, moves very well, and she's a tough competitor. I think she deserved to win today."
The men's final, also featuring two players in their first individual collegiate major final, was a reverse image of the women's, with the initial few games long and physical. That tempo changed abruptly in the fifth game of the opening set, and Jenkins went on to win 10 of the next 11 games to close out his 6-2, 6-1 victory.
A quick hold for a 3-2 lead in the first set soon became 4-2 after a break, with Jenkins using his speed and his precision to instantaneously go from defense to offense. Even when pushed way deep or wide in the court, Jenkins didn't concede anything, and as Fanselow closed the net to put away what should have been a weak reply, the Pepperdine senior instead saw clean winners whiz past him.
Fanselow was broken to end the first set, and Jenkins held in the first game of the second to make it five games in row. Fanselow needed a hold badly, but he couldn't get it, as Jenkins hit a winner from somewhere close to the ITA banner, a shot so improbably good that Fanselow could only shake his head, while the spectators gathered behind Court 9 were wishing for an instant replay.