College Feature
Indoor Tennis Moves South
by Rick Limpert, 8 February 2013
Indoor tennis in the south?
Yes, you heard me right.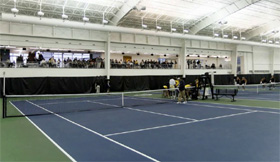 Universities in places like Florida and Georgia have sparkling new indoor tennis facilities that are being used not only for getting out of the elements to practice and matches, but they are dangling these new indoor courts in front of possible recruits and it's bound to make a difference.
If you are reading this sitting north of the Mason-Dixon line, you are probably thinking, waste of money.
Not so fast, and I have the stats to prove it. It's not sunny and 70 degrees every day in the south. in fact, two of the last three winters have been colder and wetter than usual in parts of Dixie.
Within the last year, two ACC school and one powerhouse SEC school have opened new indoor tennis facilities, one other SEC school is pondering the expansion of their existing four indoor courts, and one Sun Belt Conference team has the ground all measured for a indoor facility - they are just waiting for the go-ahead and the money.
Georgia Tech
"We're so glad to be here in this phenomenal new facility," said first-year head Yellow Jacket women's coach Rodney Harmon. "This is great for our program."
What Coach Harmon is talking about is the brand new Byers Tennis Complex, and the six new indoor courts the Yellow Jacket tennis teams will have at their disposal.
The facility went up fast, as ground was broken back in the spring of 2012.
With a smile on his face, Harmon says for Tech to remain competitive in tennis, this was necessary.
"It's going to help both our men's and women's programs stay a factor with the other schools in our very, very tough conference," said Harmon.
The Byers complex has modern locker rooms, a lounge, a training facility and enough office space for the coaching staffs. The six courts is also key, as the previous indoor facility only had three.
"I think it's going to be big for us," Harmon said. "It will allow us to compete year-round and when the weather gets inclement we'll have a place to play. We can now sell the fact that we can really get prepared for the indoor season, which starts in February."
Savvy potential recruits notice these things, as Harmon mentioned when talking to the Georgia Tech athletic website.
"It's going to give us an opportunity to recruit top-level athletes because now a lot of the top schools have new facilities around the country, whether it's Alabama or Florida State or South Carolina, Texas is getting a new facility built," he said. "So now we're going to have a new facility. It's something that to our recruits that makes us a lot stronger."
Of course this wouldn't have been possible in this day without caring alums. The Byers Tennis Complex was made possible by a gift from alumnus Ken Byers (graduate of the class of '66) and his wife, Trish.
Alums are the lifeblood of athletic programs at colleges and universites of all sizes. Georgia Tech was both lucky and deserving.