Special from
Division3Tennis.com
The NCAA Division III Championships are down to the Elite Eight, and the remaining eight teams will compete next week in Kalamazoo, Michigan - at historic Stowe Stadium - for the national title. Today, one of the principals of Division3Tennis.com stops by with a preview of the Men's Championships that get underway on Monday.
Thanks to Tennis Recruiting, it is my unique pleasure to preview the D-III NCAA Championship tournament. As many of you already know, the level of competition in Division III men's and women's tennis has been skyrocketing for over a decade now with no signs of slowing down. Take a look at the NCAA D-III commitments page at Tennis Recruiting and check out the high-level talent heading to D-III programs. D-III arguably has the best talent outside of D-I, and many D-III teams can compete favorably with D-I opponents.
Indeed, Division III might actually be the second deepest division in men's tennis, and the superb level of play will be on display this weekend in Kalamazoo, Michigan, the site of the Elite Eight. Without further ado, let's get to the matchups...
Quarterfinals
No. 1 Claremont-Mudd-Scripps vs. No. 11 Middlebury
Claremont-Mudd-Scripps is one of the more unique athletic programs in the country. The athletic teams actually consists of students from the Claremont-McKenna, Harvey Mudd, and Scripps Colleges, which form a consortium in Claremont, California. Claremont-McKenna is a renowned liberal arts college, while Harvey Mudd is among the most respected engineering schools in the country. Scripps College is a prestigious women's school, so we won't be seing any of their students in this competition.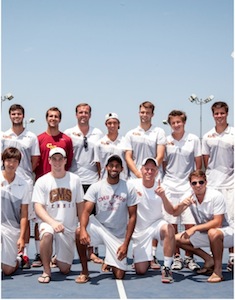 The Claremont-Mudd-Scripps Stags
toppled
No. 5
California Lutheran
by a 5-1 count in their regional final, and they are the unequivocal favorites to win this year's national championship. Unbeaten and only once-tested, the Stags - lead by Head Coach Paul Settles - boast a formidable combination of youthful enthusiasm and senior leadership. At the top of their singles lineup, they have a trio of sophomore sensations. 5-star Warren Wood has had a phenomenal season at the top rung, while 4-stars Joe Dorn - a transfer from
Vanderbilt
- and Nikolas Marino - have been brilliant at Nos. 2 and 3. The Stag lineup has been anchored, however, by 3-star seniors Alex Lane and Alex Johnson. You could count the losses between the two of them on one hand, and the singles depth they provide has been CMS' greatest strength all season. The true reason for CMS' ascendancy from perennial power to national championship favorite, however, is their doubles improvement. Wood and Dorn (the 3rd-ranked doubles team in the country) have been rock solid in the top slot, while Lane and Marino have lost just one dual match all season at No. 3.
Nevertheless, in Division III tennis, no favorite is safe. The 9-point format puts a heavy emphasis on doubles, and few teams are strong enough in singles to recover from the 0-3 deficit. Just last season, the No. 1 overall seed was upset in the quarterfinals after losing the three doubles pro-sets.
On the other side of the net from CMS is a team that might just have the goods to sweep the Stags in doubles. The Middlebury Panthers advanced to the Elite Eight with an impressive 5-1 victory over No. 9 Johns Hopkins, which was fueled by a dominant showing in doubles. The Panthers are coached by the orignal Godfather of Division III tennis, Bob Hansen. Coach Hanson won seven national championships at UC Santa Cruz and is looking for his first at Middlebury in his second season. Middlebury College is frequently ranked among the top five liberal arts colleges in the country, and their lineup is comprised almost exclusively of 4-stars, but the big addition this season was JuCo transfer Alex Johnston. If Middlebury wants to pull off the upset here, they will have to rely on solid doubles. Though Johnston and Lebowitz have been on a tear lately, they will need to neutralize Wood and Dorn or this one will end up being a repeat of the regular season meeting when CMS trounced Middlebury 8-1.
Coach Hansen has a history of getting his teams to peak at the end of the season. I'm confident this one will be closer than the two teams' regular season meeting, but I doubt the Panthers could have bridged the gap between them and CMS in just a month and a half.
Prediction: CMS advances with a 5-2 victory. Middlebury will come out fired up and take No. 1 doubles, but the Stags will answer at 2 and 3. The Stags will then earn victories at 1, 3, and 4 singles to seal it.
No. 2 Kenyon vs. No. 10 Wash U
This quarterfinal is a rematch of a 2012 semifinal match, and something has to give here.
Kenyon
is a remote but well-reputed liberal arts college in Gambier, Ohio, which brags of personal relationships between professors and students to go with some of the best athletics facilities in the country. The Kenyon College Lords are the reigning national runners-up, and anything less than a national championship this year will be a disappointment for them. Kenyon is buoyed by a phenomenal sophomore class that currently has four players in the starting lineup, and is led by 4-stars Michael Razumovky and Wade Heerboth. They come to the Elite Eight on the heels of a
thrilling 5-4 victory
over
Case Western
, but they'll need to raise their level to beat Washington University.
A prestigious research university, Washington University is one of the few D-III schools with a larger enrollment and sought-after graduate programs. The Bears are egregiously under-ranked at the moment, as they recently won the UAA championship over Emory University. Wash U is also looking to improve on their streak of six consecutive Final Four appearances. The Bears will be looking to win this one for their seniors Adam Putterman (the #3 player in the country), Gary Parizher, Kareem Farah, and Bryan Haywood - all 4-stars. These seniors have been through a lot together, and their experience will be tough to beat here.
Prediction: Wash U Coach Roger Follmer always seems to be able to get his teams up for the big moment, so I'm actually going to pick the upset in this one. Wash U's doubles have been on fire, and I think they'll win Nos. 1 and 3 before taking 1, 5, and 6 singles with their seniors to win 5-4. The No. 1 singles match between Putterman and Burgin should be a doozy, as the two players have developed a great individual rivalry over the last four years.