College Feature
Virginia Men Claim First, Stanford Women Collect Seventeenth NCAA Team Championship
by
Colette Lewis
, 24 May 2013
For the Virginia men, it was a long delayed first title; for the Stanford women, it was title 17, but the only numbers that mattered Tuesday in the finals of NCAA Division I Team Championships at the Khan Outdoor Tennis Center at the University of Illinois was 4-3, the score of Virginia's win over UCLA and Stanford's win over Texas A&M.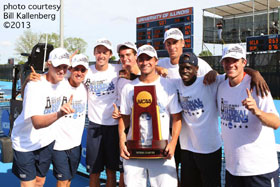 No. 2 seed Virginia's win over top seed UCLA was possible only when Adrien Puget's winning backhand volley on match point was negated by his toe touching the net as he completed the follow through on his shot up 5-3, 40-30 in the third set against Mitchell Frank in the last match on court.
The chair umpire made the call and both the referee and assistant referee confirmed it, but that consensus didn't make it any easier to accept for UCLA head coach Billy Martin.
"We had it," said Martin, who in his 20 years as UCLA head coach couldn't recall a similar incident. "I guess he touched the net. We'd started to celebrate ourselves. I'm sure they didn't make a wrong call, but wow, it's just hard to imagine we were that close and didn't get it. I've been in the other position, but it's a tough pill to swallow in this particular match, with its importance."
The match had come down to Puget and Frank on court 3 after three hours of play had provided few clues on which was the better team. Both UCLA and Virginia had survived tough battles in the semifinals, with the Cavaliers tested by No. 3 Georgia before securing the 4-1 win, while UCLA earned their place in the final by virtue of a tense 4-3 victory over No. 5 seed Ohio State, who had ended the four year run of the Southern California Trojans in the quarterfinals by a 4-3 score.
In the final, played under partly cloudy and breezy conditions, Virginia got the early advantage by earning the doubles point. Jarmere Jenkins and Mac Styslinger defeated Dennis Novikov and Marcos Giron 8-2 on court 1 and Justin Shane and Julien Uriguen earned an 8-5 win over Alex Brigham and Clay Thompson at court 3, with UCLA leading on court 2 when Shane and Uriguen secured the point for Virginia.
Shane, who had lost both his matches in Virginia's previous two NCAA finals, serving for the match against USC's Yannick Hanfmann last year only to lose the clinching match in a third set tiebreaker, wiped away those bad memories with a quick 6-2, 6-2 win over Thompson on court 5.
UCLA had taken the first sets on three courts, with Giron leading Alex Domijan on 2, Dennis Mkrtchian getting up on Styslinger on 4 and Puget blowing past Frank on 3 in the first set 6-0.
But under the pressure of a national championship, and with the quality of the players on the courts, easy two-set matches were unlikely. UCLA pulled even when Mkrtchian defeated Styslinger 6-4, 6-3, and Marcos Giron produced his second consecutive outstanding match in as many days, beating Alex Domijan 6-4, 6-4.
Meanwhile, Jenkins had taken command against Novikov, who began to miss some of the shots he had made throughout the first set. Serving at 3-5, Novikov got down 0-40, saved four match points, but double faulted on his fifth to give Jenkins the 7-6(3), 6-3 win and the Cavaliers a 3-2 lead.
Sell had earned a third set with Uriguen at 6, so UCLA was still very much in the match. Uriguen, unable to hold serve even once in the final set, trailed 4-0 and 5-1, and Sell finished the match off with yet another break for a 4-6, 6-3, 6-2 victory and a 3-3 score.