College Feature
Gibbs Defends NCAA Singles Title, Rola Thwarts Jenkins' Bid for Triple Crown
by
Colette Lewis
, 31 May 2013
NCAA titles in 2012 didn't satisfy Stanford's Nicole Gibbs and Ohio State's Blaz Rola, who returned to the Division I Individual Championships at the University of Illinois hungry for more. Gibbs defeated Nebraska's Mary Weatherholt 6-2, 6-4 to earn a second straight singles title to go with her 2012 doubles championship and the 2013 team title, while Rola downed Virginia's Jarmere Jenkins 7-6(8), 6-4 to add a singles title to the doubles championship he won last year.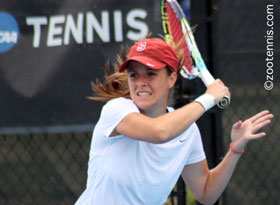 Rain on five of the six days of the individual tournament saw many matches interrupted and resumed just a few steps away at the Atkins Tennis Center, but Memorial Day showers held off long enough to complete the singles finals at the Khan Outdoor Tennis Center.
Gibbs and Weatherholt, both No. 9 seeds, had moved through a draw that opened early, with both No. 1 seed Lauren Embree of Florida and No. 2 seed Sabrina Santamaria of Southern Cal out by the second round. Gibbs did not lose a set en route, defeating No. 4 seed Christina Sanchez-Quintanar of Texas A&M 6-4, 6-4 in the third round, while Weatherholt lost only one set, in her 6-7(4), 6-0, 6-0 win over No. 3 seed Robin Anderson of UCLA.
Her confidence shaken by a three-match losing streak midseason, Gibbs, a junior from Santa Monica, regained her form in the team tournament, beating Santamaria, Embree and Sanchez-Quintanar while leading the No. 12 seeded Cardinal to their 17th NCAA team title.
In the final, played in warm, humid and breezy conditions, Gibbs got off to a quick start against Weatherholt, who set a new standard for her school with every win after the first round.
Up 4-0 before Weatherholt got on the board with a break, Gibbs was the steadier of the two players, although Weatherholt said her errors were not the result of nerves. Gibbs continued to pressure Weatherholt on serve, stepping three feet inside the baseline when she had a look at a second serve. Gibbs closed out the first set with her fourth break of Weatherholt in the set, but Weatherholt was far from discouraged.
The senior from Prairie Village, Kansas started the second set with a break and held her own serve for the first time in the match to take a 2-0 lead, beginning to eliminate her errors and attack the short balls Gibbs gave her. Gibbs used her slice to counteract Weatherholt's flat power, and continued to aggressively hit out as much as the wind allowed, especially on her returns. At 3-3 in the second set, Weatherholt was moving forward for a short ball from Gibbs and her knee buckled, the same knee she had had surgery on three times, most recently last September.
After treatment on the changeover, Weatherholt continued to play, but she was not as confident in her movement. Gibbs however, couldn't maintain her focus, allowing Weatherholt to win the next game without actually hitting any winners.
"I let myself get a little carried away," Gibbs admitted. "It looked like she got really hurt when she first went down, and I was a little concerned about her, to be honest. She's a really nice girl and a good competitor. So that next game, I was just hoping she would throw me some errors, and I wasn't really sticking to the game plan that I had been adhering to, and I got really tight that game."