College Feature
An Interview with USTA's Collegiate Team National Coach Dustin Taylor
by
Colette Lewis
, 14 June 2013
The United States Tennis Association's Collegiate Team has been a part of the USTA's commitment to college tennis since 1996, but beginning this spring, it's taking a new direction.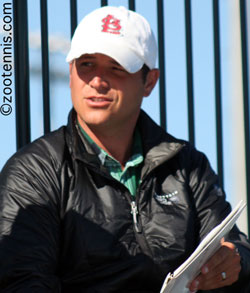 Taylor is USTA National Coach of Collegiate Tennis
©
ZooTennis.com
USTA Player Development National Coach
Dustin Taylor
was selected to take over responsibility for the program, and he began formulating his strategies for assisting college players in February.
A native of Portland, Oregon, Taylor spent two of his teenage years at the Bollettieri Academy in Bradenton, Florida. After graduating from high school in Portland, Taylor spent a year competing for the Wisconsin Badgers before transferring to Tulsa, where he was an All-American in doubles in 2003. His longtime association with the DePalmer family, which initially led to his time at Bollettieri's, continued when he coached Rhyne Williams, former Tennessee head coach Mike DePalmer's grandson, during Williams' early years in junior tennis.
After briefly using his Tulsa business degree in a sales position, Taylor returned to tennis, coaching local juniors. Before long he became a pro touring coach, working with Brian Wilson, Robert Kendrick, Ryan Sweeting and Tim Smyczek. In 2010, Taylor joined the USTA, working with both young professionals and juniors before taking on his new responsibilities.
At the NCAA Division I Championships at the University of Illinois last month, I spoke with Taylor about his new position and his goals for the USTA Collegiate Team.
Questions and Answers
Colette Lewis (CL): Why did the USTA decide to create a National Coach of Collegiate Tennis?
Dustin Taylor (DT): We've been taking care of college players, but we never really had a structure to it. The USTA never presented itself as we really, really support college tennis as a real viable pathway to professional tennis. We thought it, but we never really knew how to go about it. So we had the idea of having the collegiate summer team, let's turn that into a year-round team, where college coaches can give their players an opportunity to play tournaments in the fall, pro events, and in the spring, where the school doesn't have to take them, doesn't have to pay.
When they gave me the job, they just said, 'You're a resource for college tennis, do what you want with it.' And I sat back in the chair and said, 'Where do I start?' But I said I think everything needs to be based around this collegiate team, bringing six or eight or 12 of the best players together where I can build a relationship with the players and build a relationship with their coaches. The biggest thing is the relationships and the communication, and the women's side is where I really need to build the relationships. That's probably the No. 1 thing in my job, to let the coaches know I'm a resource.
CL: What led to you accept the job?
DT: Being one of the few college guys on the national staff, I really felt it was my calling. Obviously if they were going to hire from outside, it would be a great job for a number of coaches around the country. But I was on the national staff and probably the most supportive person of college tennis, and have relationships with guys like Jarmere Jenkins, Mitchell Frank, who have been a part of the collegiate team. So I said I would do it.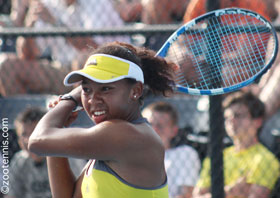 I'm such a big advocate of college tennis - what it can do for young men and young women, their character. Of course their tennis, but more importantly, life. I think the players who go though college, and go out on tour and don't make it, they're fine. But a lot of the ones who skip out on college, go out on the tour and don't make it? I worry about them. Just the maturity aspect, playing for something larger than yourself, the team, all that is so crucial.
CL: When did you make the transition from your previous duties at USTA?
DT: My last tournament with the pros was at the SAP Open in San Jose, and I went up to the National Indoors for the men from San Jose, and it's sort of been off to the races from there. It was dual season, so it was a good time to gather my thoughts and figure out how to hit the ground running with it, how the vision can all come together.
CL: What is the criterion for selection?
DT: The first objective was to get the collegiate team rebranded, make it merit-based so you're really proud to be a part of the team.
If you win the All-American, the Indoor or the NCAAs, you're automatically a part of the team. If you're the Intercollegiate Tennis Association Rookie of the Year, you're on the team. If you're top 750 ATP or Top 500 WTA, you're on the team. Those are your automatic qualifiers. For the men, the player that picks up the most points on the Pro Circuit in June, including the Pittsburgh Futures and Winnetka Challenger and excluding Innisbrook, that's one spot on the team as well.*
For example, this year Lauren Embree won the All-American, Robin Anderson the Indoor, Nicole Gibbs and Krista Hardebeck are Top 500 WTA and Julia Elbaba is the Rookie of the Year, so the other seven invited to the camp will play off for the last spot.
Next year, no American could win anything, so you give out invites to 12 and the camp will determine all six.
The six that are on the team, you get a clothing sponsor, Athletic DNA, you get the coaching and you get the grant money. For the other six who are invited to the camp, who don't make the team, but show up at the camp, they get grant money as well for that summer. But they don't get their hotels paid for. I don't want to say they won't get coaching, because we're going to try to help everyone, but there has to be some incentive to make the team.
CL: What is the schedule for the team?
DT: For the women, the camp playoff is June 24th, in Carson, California and they go right into the Sacramento, Yakima and Portland Challengers. Then the team will separate a little bit, with those who may need to play more matches dropping down to the $10Ks, and then we'll have a coach at both.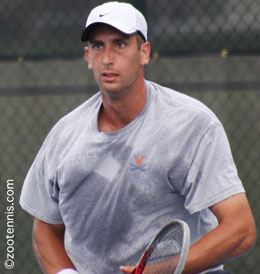 For the men, the whole month of June we send coaches to the Futures tournaments where they help those 12 in any way possible. We have a Flushing Meadows camp and playoff we'll do at the National Tennis Center the week of July 8th, leading up to the Binghamton Challenger and the Lexington Challenger. Then some will go to Decatur and Edwardsville $10ks and some will go to Vancouver and Aptos challengers, or play DC qualies.
CL: Who are the coaches?
DT: We have two and a half coaches on each side, because I'm a half, splitting my time between men and women. The men's are Bo Hodge (Oklahoma men's assistant) and Brett Ross (Wake Forest men's assistant) and the women's are West Nott (Southern Cal's associate head coach) and Lee Taylor Walker (Memphis women's head coach).
CL: What are your goals?
DT: We want to make it really special. My dream is to walk into a university and they have a banner that says USTA Collegiate National Team right next to those All-American banners. In other sports like soccer, to be a part of an Olympic Development Team or a National Under-18 team, it's such an honor. We've got to build it up, so that one day it becomes a fraternity of sorts.
We need to reach out to former players, tie in former pros, especially former collegiate pros, whether they want to speak at the camps, or to play even. And at the camp at the end of the summer, where there will be the collegiate team and probably most of the six others, also bring in some of the incoming top freshmen, to get a taste of the team and talk to some of the top players who were in their shoes at one time.
CL: What will your coaching entail?
DT: The collegiate team is not going to be changing strokes; the collegiate team is not going to be ruining players' games. We're just going to be presenting them with opportunities, giving them resources and helping them see professional tennis as a possibility.
My job is to give them opportunities and experiences, show them what the tour can do for them.
CL: I know USTA's department of junior and collegiate tennis has moved from Player Development to Community Tennis. Which do you work for?
DT: I'm under Player Development and I'm still a National Coach, just now National Coach, Collegiate Tennis. We have Men's Tennis with Jay Berger and his National Coaches, Women's Tennis with Ola Malmqvist and his National Coaches, and Collegiate Tennis, with me. Hopefully that grows, and if I do a good enough job, I think it will grow. It is a stepping stone in recognizing resources need to be out there for collegiate tennis, showing a sense of belief in the system.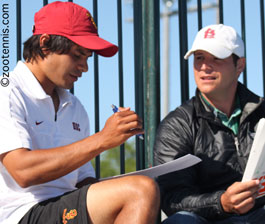 West Nott (left) is one of the coaches working with Taylor
©
ZooTennis.com
From the top down, Patrick (McEnroe) and Jose (Higueras), we all believe college tennis a viable pathway to professional tennis.
The average age of the Top 100 is 26 for the men and 22 for the women, so it's hard to argue that they shouldn't go to school now. It's a simple as that.
CL: How do you view the quality of college tennis?
DT: There are a lot of good players here. I've been here to the Champaign Challenger every year for the past six, seven years, and it's the same level. We need to recognize that and I think we have. You see Stevie (Johnson) come out and he goes right to 120 in the world, qualifies for the French Open. Rhyne Williams, same thing. Tennys Sandgren, Brad Klahn, the proof is in the pudding, these guys can play. We truly do believe it's a pathway.
CL: What are some of your ideas for the future?
DT: I'm a business major, a marketing major, an idea guy. I love thinking about the format of college tennis, and I'd love to have like a Ryder Cup at the US Open, where the top six American college players compete against the top six European players. This job could grow to such a huge thing, but you've got to do the groundwork of getting everyone on board.
CL: Any fears?
DT: It's out of my comfort zone and I'm learning every day. I'm sure I'll make a tremendous amount of mistakes; hopefully I learn from them. I'm sure something will need to be tweaked. But to gauge if I'm doing a good job two or three years from now, I'd say one, that this is a team to be proud to be a part of, a wonderful experience for the teams every year, and two, results-wise, we have females coming out (of college) between (WTA) 250-500 and males coming out between (ATP) 400-700.
*The 12 players invited to compete at this year's camps:
MEN:
Jarmere Jenkins**
Alex Domijan**
Peter Kobelt
Ryan Lipman
Evan King
Marcos Giron
Kyle McMorrow
Ray Sarmiento
Jeremy Efferding
Andre Dome
Dennis Novikov**
Mitchell Frank
WOMEN:
Lauren Embree**
Nicole Gibbs**
Sabrina Santamaria
Robin Anderson**
Mary Weatherholt
Lauren Herring
Gina Suarez-Malaguti
Danielle Lao
Krista Hardebeck**
Julia Elbaba**
Kyle McPhillips
Jacqueline Cako
**already member of team based on established criteria
Leave a Comment
More College Coverage
21-Nov-2019
Mortera Navigates First Recruiting Period for Ute Women
Ric Mortera was hired to lead the Utah women's program on June 28th. Like nearly all first-year coaches, he knew some patience would be required for his first signing class. The Utes haven't signed anyone for 2020 yet, but are hoping two players can become the perfect fits.
20-Nov-2019
Nott Begins New Chapter at UT-Rio Grande Valley
After starting his coaching career with a Power Five conference program, West Nott has returned to college tennis with a program more removed from the national spotlight. Nott has taken over as the women's head coach at the University of Texas-Rio Grande Valley.
8-Oct-2019
Wyoming's Clower Hasn't Let MS Impact His Coaching Climb
Wyoming women's coach Dean Clower was diagnosed with multiple sclerosis at age 23. But Clower never let it hinder his dreams. He credits two coaches for saving his life and keeping him motivated to excel in the profession.
About Colette Lewis
Colette Lewis
has covered topflight U.S. and international junior events as a freelance journalist for over a decade. Her work has appeared in
Tennis
magazine, the
Tennis Championships
magazine and the US Open program. Lewis is active on
Twitter
, and she writes a weekly column right here at TennisRecruiting.net. She was named
Junior Tennis Champion
for 2016 by Tennis Industry Magazine.
Lewis, based out of Kalamazoo, Michigan, has seen every National Championship final played since 1977, and her work on the tournament's ustaboys.com website led her to establish ZooTennis, where she comments on junior and college tennis daily.