Championship Week
Brooksby Claims First Gold in North Little Rock
by
Ali Jones
, 13 August 2013
Jenson "JT" Brooksby first qualified for Level-1 tournaments as a precocious nine-year-old Californian. Now, three years and thousands of practice balls later, the blue chip athlete finally owns his first gold ball in singles.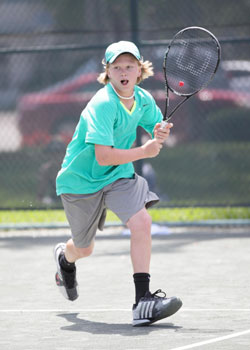 On the second Saturday of August 2013 in North Little Rock, Arkansas, Brooksby defeated the fourth-seeded surprise finalist
Thomas Yu
, 6-3, 6-1 in the
USTA Boys' 12 Nationals
.
"I've been working hard for a long time," said Brooksby, who also has two silver balls for doubles. "It's pretty exciting and I was pleased to pull out the tournament."
In his last three Super Nationals singles appearances, Brooksby stumbled in the quarters, but he then quickly regrouped to win the gold draw each time.
Rather than regret those lost opportunities, he used them to sharpen his mental focus and learn from them.
"I was a little more prepared this time because of my experience," said the champion from Sacramento. "I'm feeling pretty happy that I won."
Brooksby methodically went about his side of the draw, refusing to concede a set in seven singles matches. He beat three players seeded 17th: Pierce Rollins, Casey Markulike and Justin Boulais. Against 6th seed Nathan Han, he won 5 and 1 in the semis.
In addition, Brooksby went all the way to the finals in doubles, dismissing early round opponents in straight sets, and then pulling out a clutch third-set 10-point tie-breaker against top seeds James and Thomas Yu in the quarters.
Brooksby and Scott Sculley came back from a set down in their semis, but eventually fell to champions William Grant and Garrett Johns in the finals.