Tournament Summary
"Little Mo" Internationals Celebrate Maureen Connolly's Grand Slam
by Marcia Frost, 9 September 2013
Sixty years ago, an 18-year-old became the first woman to capture the Grand Slam of tennis after winning the singles titles at the Australian Open, French Open, Wimbledon and the U.S. Championships. Maureen Connolly, also known as "Little Mo," would only play one more year of professional tennis before injuring her leg in a horseback riding accident that ended her playing career.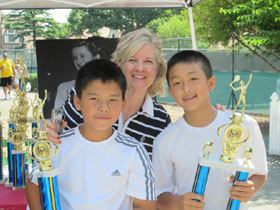 Maureen Connolly Brinker (she married Norman Brinker) kept her legacy alive through her foundation. Despite her death from cancer in 1968, the
Maureen Connolly Brinker Tennis Foundation
has continued to work with highlighting the talent and sportsmanship of young players. Among those who have played "Little Mo" tournaments are Andy Roddick, Victoria Duval and Ryan Harrison.
In celebration of the 60th anniversary of Little Mo's Grand Slam, the MCB Foundation has created a spectacular event of its own. Three international tournaments are being played that could lead to the possibility of multiple "Grand Slam" winners in the 8-, 9-, 10-, 11- and 12-and-under age groups.
Carol Weyman, Executive Vice President of the foundation, is hoping to give "the tallest trophy ever given in junior tennis - 6 feet tall" to at least one player.
So far, the odds are looking good that there will be someone taking home that trophy. "We are excited there are four players who have a unique opportunity to win the 'Little Mo Grand Slam,'" announced Weyman after the second event concluded in New York.
Weyman admitted that Slam is picking up players as it goes, "The first leg in Colorado had 50 players competing and the second leg at Forest Hills had 180 players. The third and final leg in Florida will be the toughest since we expect around 250 players."
The first 'Little Mo' International of 2013 was in Colorado at the U.S. Air Force Academy in Colorado Springs. The winners were: Nishesh Basavareddy - Irvine, Calif. (Boys' 8); Paxton Pritchard-Asheville, N.C. (Boys' 9); Elisha Thornton - Palm Beach, Fla. (Boys' 10); Michael Eala - Taguig City, Philippines (Boys' 11); Joshua Raab - Woodstock, Ga. (Boys' 12); Alexandra Eala - Taguig City, Philippines (Girls' 8); Vivian Ovrootsky - San Jose, Calif. (Girls' 9); Noa Krznaric - Zagreb, Croatia (Girls' 10); Jennifer Kida - Wilmington, Calif. (Girls' 11); and Alise Pedersen - San Anselmo, Calif. (Girls' 12).