College Feature
Michigan Women Defeat Yale to Return to Team Indoor in Charlottesville
by
Colette Lewis
, 30 January 2014
A new format and a key player's injury didn't keep the University of Michigan women from their customary trip to Charlottesville, Virginia in February. On Sunday, the Wolverines defeated Yale 4-0, advancing to the Intercollegiate Tennis Association National Team Indoor Championships for the fifth consecutive year.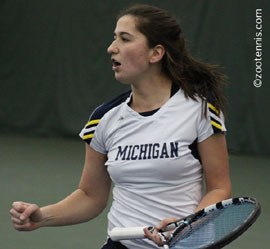 The
Varsity Tennis Center
in Ann Arbor hosted four teams over the cold and snowy weekend, with No. 11 Michigan defeating No. 54
Virginia Tech
6-1 in the first round, and No. 36 Yale taking out No. 28
Tulsa
4-3, with a match tiebreaker in lieu of a third set at No. 1 singles deciding it.
This season's ITA experimental formats are different for men and women, with the women opting for traditional scoring in both doubles and singles, but playing only one standard set for doubles and a match tiebreaker in lieu of a third set in singles. (The men are playing no-ad, with tiebreakers at 5-5 instead of 6-6, in singles and doubles).
While the match tiebreaker did not come into play in the final, its existence loomed over every match.
"It's definitely different," said Michigan's Emina Bektas, whose 7-6(6), 6-4 win over Yale's Madeleine Hamilton clinched the victory for the Wolverines. "You can be ahead the entire time in the match, slip up a little bit in a game, and boom, you can be in that breaker and lose. So you definitely have to keep focus a lot more, because you don't have an entire set to get yourself back into it."
After winning the doubles point, Michigan took two first sets 6-0, with Kristen Dodge blanking Amber Li at No. 6 and Sarah Lee shutting out Sherry Li at No. 2. But with a match tiebreaker possible, the dynamics differed from the best-of-three-sets format.
"It's really a little bit unnerving, to be honest," said Michigan head coach Ronni Bernstein, in her seventh year as coach of the Wolverines. "Kristy is up 6-0, 5-4 and in ten minutes it could go the other way, even with her totally dominating, I thought, the match. We're happy to get through here, because it easily could have been ten pointers going around."
Due to a shoulder injury, Michigan was playing without Ronit Yurovsky, ranked No. 20 and the Wolverines' No. 2 singles player, as well as a member of the nation's No. 11 doubles team. The injury required that Bernstein juggle her doubles lineup, but the new combinations came through.
About K-Swiss
College Content at TennisRecruiting.net is sponsored by K-Swiss.
At K-Swiss we are 100% invested in the sport of Tennis and committed to helping players play their very best and win at every level. From a competitive junior or adult player to the greatest doubles team of all-time, Mike and Bob Bryan. For over 50 years we have been making some of the most innovative, high quality tennis footwear in the game featuring the very best in comfort with a consistent fit.
We encourage you to try the K-Swiss shoe that is best for your game.
Connect with K-Swiss on Facebook, Twitter, and YouTube - or on their website.