College Feature
Duke Erases UCLA's 3-0 Lead to Earn Second ITA Women's Team Indoor Title
by
Colette Lewis
, 14 February 2014
When the seeds were announced last week for the ITA Women's Team Indoor Championships, Duke was a controversial No. 7, despite their preseason ranking of 10. When the Blue Devils defeated No. 4 seed UCLA 4-3 Monday in the final, roaring back from 3-0 down, they had proven they belong at the very top.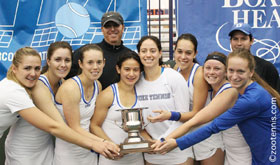 "We just wanted to come here and make a statement about where our program is, and what we're doing with our program after the year we had last year," said Duke head coach Jamie Ashworth, who lead Duke to its first Team Indoor title in 2003. "But we fought so hard last year, and I think that carried over to this year's group."
Although Duke made the NCAA Sweet 16 in 2013, they played the conference season and the NCAA tournament with only five players, one of whom was a walk-on, due to the academic suspension of Trice Capra and injuries to Ester Goldfeld, Monica Turewicz and Rachel Kahan.
"It's a tribute to the girls we have," said Ashworth. "I wouldn't wish what we went through on anybody, but it's such a learning experience for myself and for our team and it's made us better. It's made us tougher and it's made us not take anything for granted. And we've played like that all weekend."
Duke began its weekend at the Boar's Head Sports Club in Charlottesville, Virginia with a 4-2 win over Michigan, then avenged its loss in last year's semifinals to ACC rival North Carolina, the No. 2 seed and defending champion this year. Duke reached the final for the second time in three years when they squeezed past No. 6 seed Cal 4-2, winning all three match tiebreakers in lieu of the third set in the experimental format being used for the tournament.
While Duke was advancing in one thriller after another, UCLA was looking stronger with each match. After defeating Texas 4-2 to start the tournament, the Bruins blanked Pac-12 rival USC, the No. 5 seed, and shut out Northwestern, who had surprised top seed Florida 4-2 in the quarterfinals.
The final, a rematch of the 2012 championship that UCLA took 4-0, looked as if it would be another shutout for the Bruins when they won the doubles point easily and took five first sets in singles.