College Feature
Notre Dame Dominates Ball State in College Match Day Contest
by
Colette Lewis
, 26 February 2014
Only hours after a grueling and emotional home loss to top-ranked Ohio State Saturday afternoon, the Notre Dame Fighting Irish returned to the Eck Tennis Pavilion courts to sweep Ball State in a nationally streamed USTA College Match Day contest Saturday evening, rebounding quickly from the disappointing loss to the Buckeyes.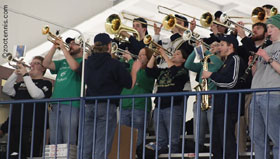 Ranked No. 10, the Fighting Irish picked up quick singles wins from Wyatt McCoy at line 5, Alex Lawson at line 6 and Greg Andrews at line 1 for a 3-0 lead, leaving it to Josh Hagar to close out the unranked Cardinals with a 6-3, 6-3 victory over Austin Smith at line 3.
Under the format mandated by the USTA for College Match Days streamed live on ESPN 3, doubles is played only if the six singles matches, played with conventional scoring, are split. That was unlikely to happen in the Ball State match, which took less than 90 minutes to complete, but it was a possibility against Ohio State, who was originally scheduled to be the College Match Day opponent of the Irish.
"They opted not to play College Match Day format," said Notre Dame head coach Ryan Sachire, in his first year as Notre Dame head coach, after seven years as assistant to Bobby Bayliss. "We bid on it with Ohio State being the intended College Match Day match, and Ohio State refused to play under that format. That was their choice and their right to not play that format, so we're happy that the USTA was nice enough to allow us to play Ball State."
For Ohio State head coach Ty Tucker, whose team had five days earlier won its first National Team Indoor title using a no-ad format with doubles first, the College Match Day format was one too many.
"I didn't want to play three different formats," said Tucker, who had seen his team rally from 2-0 down against Notre Dame to post 4-2 win earlier.
"Let's be honest. If ESPN doesn't want to do a match with regular scoring like they just saw, I can't help them," Tucker said of the three-hour-and-45-minute match witnessed by nearly 500 fans.
"That was a big-time match. They were crazy they didn't have their cameras out there getting that match. That was as good as it gets. If I would have wanted to play College Match Day, with different experiments with formats, I would have asked to have one at our home. I want to play regular rules, put my guys in the best position to win, and that's what I was doing."
Although the College Match Day Experience, a interactive trailer delivered to the school's parking lot via semi truck, and the presence of the Notre Dame pep band added to the festive atmosphere prior to the 7 p.m. Ball State match, attendance was less than half of what it had been for the noon match with the Buckeyes.
That didn't matter to Ball State head coach Bill Richards, who saw the match as a way to raise the visibility of his program.