College Roundup
Scattershooting Around the Men's College Game
by Keith Kropp, 24 April 2014
During a dual season in which many schools have negotiated difficult schedules, overcome adversity and tweaked lineups, the men's Division I season has now reached the conference tournaments. Rivalries will be renewed this weekend and a few more questions might be answered, but what we have seen the past three months from all regions of the country tells us there are perhaps ten teams capable of capturing the NCAA championship.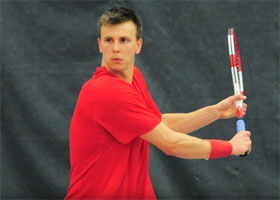 So far this season four teams have held the No. 1 ranking -
Virginia
,
Ohio State
,
Southern California
and
Oklahoma
. Once 64 teams are chosen to begin the pressure-packed journey of the NCAA Championships on May 9 it would not surprise anyone if there were a few upsets along the way.
USC, which briefly held the top ranking in late March, has again ascended to the No. 1 position this week following its impressive 4-2 victory over UCLA last Friday. The Trojans (25-2) clinched the Pacific-12 Conference championship with that win, which was their 16th in a row and second over the No. 5 Bruins this season.
Yannick Hanfmann, a junior from Karlsruhe, Germany, was instrumental in the win over UCLA, defeating Clay Thompson 6-4, 7-5 in a hard-fought match on Court 1. Thompson, a senior from Venice Beach, Calif., has been the nation's top-ranked player in singles all season. Roberto Quiroz, a junior from Guayaquil, Ecuador, provided the clinching point with a three-set victory on Court 3.
Ohio State, currently No. 2, has held the top ranking most of the dual season. Led by Peter Kobelt, a senior from New Albany, Ohio, and Hunter Callahan, a junior from Lower Gwyneed, Pa., Ohio State is 27-3 and with its 6-1 win over Nebraska on Sunday wrapped up its ninth consecutive unbeaten season in the Big Ten.
Kobelt, ranked No. 7 in the nation in singles, clinched match point for the sixth time this season in the victory over Nebraska and also earned his 250th combined career win at Ohio State.
Earlier in season, Ohio State showed its balance and depth by defeating No. 4 Virginia (4-3 in the semifinals) and USC (4-1 in the final) en route to capturing the ITA National Team Indoor Championships in Houston back in mid-February. But Ohio State quickly found out it is not easy to stay on top when Oklahoma, led by the superb play of Guillermo Alcorta and Axel Alvarez Llamas, took down the Buckeyes in a non-conference dual 4-1 on March 7.