College Feature
Ohio State Downs Illinois 4-2 to Claim Big Ten Tournament Championship
by
Colette Lewis
, 28 April 2014
With nine consecutive Big Ten regular season conference championships and eight of the last nine conference tournament championships, the Ohio State Buckeyes could be forgiven for taking such accomplishments lightly. There was no complacency in Sunday's tournament final against the University of Illinois however, with the Buckeyes exacting some revenge in their 4-2 victory at the Michigan State Outdoor Tennis Courts.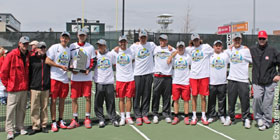 In 2012, the Fighting Illini shocked Ohio State 4-3 in the tournament final, ending the Buckeyes' conference winning streak at 92. Ohio State head coach Ty Tucker couldn't help but see the similarities to the raw and breezy afternoon in East Lansing.
"We woke up today and said it feels a lot like 2012, heavy conditions, cold," said Tucker, in his fifteenth season as head coach. "We won the doubles point pretty quickly and said, 'it is 2012.' But we were lucky it was 2014, different faces, different teams."
Hunter Callahan, a junior who was on the team but did not play in that loss to Illinois, readily admitted he had his eye on the likely tournament showdown with Illinois.
"The whole season I was looking forward to this," said the junior from Pennsylvania, who provided the clinching point Sunday. "I knew Illinois was a lot better this year than they were last year, and I knew they'd go in being the two seed, so I knew we'd play them in the finals. The whole year I was looking forward to this. I think this [title] feels the best so far. The National Indoor was great, but this is the Big Ten, it's what we play for, and it was against Illinois. It was by far the best one."
The doubles point went to the Buckeyes without drama. Illinois' Farris Gosea and Blake Bazarnik defeated Callahan and Chris Diaz 8-4 at line 3, but Ohio State had the upper hand on courts 1 and 2. Kevin Metka and Herkko Pollanen beat Jared Hiltzik and Alex Jesse of Illinois 8-4 at line 2, and minutes later Peter Kobelt and Ralf Steinbach gave Ohio State a 1-0 lead with an 8-4 win over Tim Kopinski and Ross Guignon at line 1.
When singles began, there was little to separate any of the pairings, with the possible exception of line 2, where Gosea of Illinois took a 6-2 first set from Pollanen. The other five first sets were close, with Ohio State winning four of them, two in tiebreakers.
It was Illinois posting the second point however, as Hiltzik defeated Kobelt at line 1 7-5, 6-2. Dropping that point was not in Tucker's projections.