Who's Hot?
Prince Hot 100 List - July '14
by Amelia Thomas, 14 July 2014
With climbing temperatures, it's easy to give in to the temptations of the swimming pool or air conditioning. But the athletes on the Prince Hot 100 Lists are still turning up the heat as they train through the summer. We recognize some of these notable players.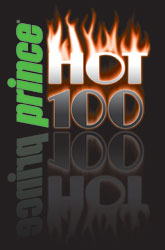 The Prince Hot 100 lists are published each month, and the July Hot 100 lists feature the one hundred boys and girls who most improved their rankings during the month of June. You can find out more about the Prince Hot 100 - and how the lists are calculated - by reading here.
The latest lists, published last week, are available here:
Let's take a look at a few of these players...
Roundup
Sarah Kalmanovich (Framingham, Mass.)
Two-star rising sophomore Sarah Kalmanovich credits her improved play to the influence of her brother, Roy. 24-year-old Roy played for the University of Illinois at Urbana-Champaign as well as some on tour. He now coaches his younger sister and has had a tremendous impact on her game.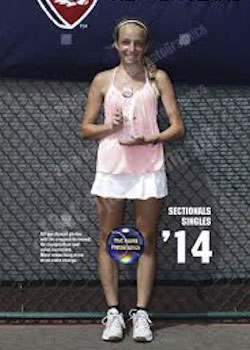 "I credit my improved play to my brother, who put in a lot of work with me the month leading into sectionals. He was able to get me into excellent playing shape in a short amount of time," Kalmanovich said. "I am happy that all the hard work, intensity and dedication is paying off."
In fact, Kalmonovich said that her brother's coaching is what most sets her apart from her peers. "I am fortunate enough to be well-coached. I am given a perspective, strategy, mental approach and direction that most kids around here either don't get or don't get enough of," Kalmonovich said.
Her brother has an ability to encourage her competitive excitement, yet keep her calm. "This allows me to play at a higher level," she said.
Kalmonovich took some time off of tournament play this year to focus on training. Currently, she and her brother/coach are working on improving the quality of her shots. "We also do a lot of consistency drills, which force me to increase my ball rotation and shape," she said.
When the Framingham, Mass., native finally returned to tournament play, she found success in several tournaments. In May and June, she won New Hampshire Challenger Circuit events in Nashua in the 14s and 16s divisions, respectively, and last month she won a championship at the USTA New England Summer Sectional. Her overall record for the month of June was 8-0.
Out of her many wins, Kalmonovich cited her victory over four-star rising freshman Julia Pezzuco in the finals of the USTA Sectional as her best. "This was the one that stood out to me the most because I couldn't believe I had made it to the finals after being out of tournaments for such a long time," she said. Kalmonovich defeated Pezzuco in two sets, 6-4; 6-4.
Her recent success has her thinking seriously about college, especially with the influence of her recently-graduated brother. "I am interested in schools with strong academics," she said. "I also would like to go to a school with strong a tennis program and traditions. I am very excited about heading to university in three years and playing on a team!"