College Feature
The Role of College Tennis in Isner, Johnson and Burdette's Pro Success
by
Colette Lewis
, 19 June 2014
College tennis is a team game, a prime reason for its popularity, particularly among US-born juniors. After years of focusing on individual results in junior tournaments, collegians have an opportunity to perform for the benefit of their teammates, most of whom become lifelong friends. Yet many of the top college players also have their sights set on professional careers, using their years in college to mature and develop while competing and studying.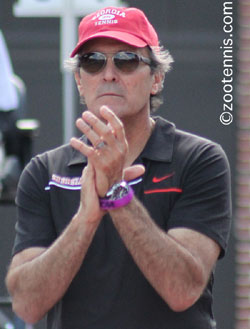 That development is in the hands of their coaches, who must balance the interests of the team as a whole with an individual player's desire to improve.
Three of the top Division I coaches have mastered that art. Manuel Diaz of Georgia, Peter Smith of Southern California and Lele Forood of Stanford have won 16 NCAA Team Championships between them in the past 15 years, but have also had 17 NCAA individual champions during that span. I spoke to all three at last month's NCAAs to learn how John Isner (career high ATP ranking 9), Steve Johnson (career high ATP ranking 63) and Mallory Burdette (career high WTA ranking 68) used college tennis to prepare for a professional career.
Diaz told me he wasn't surprised by Isner's ability to have an immediate impact after ending his collegiate career at Georgia in 2007, making the final of the ATP tournament in Washington DC just months later.
"John was so well prepared, because he was winning ITA majors, competing for a national championship, playing in front of 5000 people," Diaz said. "He got to a Challenger and thought, I should be winning this. And then went to DC and wasn't overwhelmed by it."
Diaz sees increased opportunities to compete on the professional level as an important factor in determining a player's readiness for a pro career.
"In college, with the schedule we have now, the ability to play Futures and Challengers, which is something we did with John, and everybody's doing a little bit of it now, they can still test the waters and measure themselves. They can better gauge, they can take one or two years - or four, for John - to mature physically and mature emotionally.
"I think for some of our (young US) pros, it was very tough on them, getting out in that big ocean. It's very easy to sink. Quite honestly in college, they can afford to make mistakes without hurting themselves, hurting their confidence."
Diaz believes in staying in school long enough to minimize the time spent competing in Futures full time.