College Feature
American Collegiate Invitational to Debut at US Open
by
Colette Lewis
, 24 June 2014
When sixteen American collegians take the courts late in the second week of this year's American Collegiate Invitational at the US Open, they will enjoy the same perks and surroundings as professionals Serena Williams and Rafael Nadal. The college players will not share in the millions of dollars of prize money, but they can collect something the pros cannot - a guarantee of entry for the following year.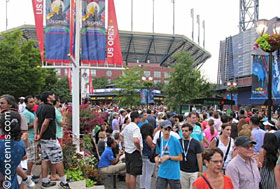 The American Collegiate Invitational will take place during the second week of the US Open
©
ZooTennis
As part of its commitment to college tennis as a development pathway, the USTA will invite the 12 members of its Collegiate National Team to compete in the single-elimination tournament, held from Thursday, September 4th through Saturday, September 6th on two outer courts of the USTA Billie Jean King National Tennis Center. Depending on their rankings at the time entries close for the 2015 US Open, this year's champions could earn a wild card into the main draw of the US Open.
"The winners will automatically receive a qualifying wild card into the 2015 US Open," says tournament director Bill Mountford. "If the men's winner has reached the Top 250 ATP by next year's cutoff, he will get a main draw wild card. If the women's winner reaches the Top 150 WTA, she will receive a main draw wild card."
In addition to the US Open wild cards, the winners will receive wild cards into two challengers within 12 months, with the specific tournaments determined in consultation with the USTA director of coaching and the USTA's heads of men's and women's tennis. The finalists will each get a wild card into one challenger within 12 months.
The USTA is offering these wild cards in order to emphasize the competitive nature of the event.
"From the beginning, Gordon (Smith, Executive Director and COO of the USTA) and Dave (Haggerty, President, CEO and Chairman of the USTA) were saying that's important," says Mountford. "They didn't want this to be a showcase or an exhibition; they really wanted them to be playing for something. And this is really valuable stuff."
To comply with NCAA regulations, the other two players included in each eight-player draw must have completed their eligibility or declared themselves as professionals. But regardless of their amateur status, all 16 players will have their expenses paid by the USTA.