Championship Week
Volynets Cruises to Girls 12 National Title
by Rick Limpert, 12 August 2014
When Walnut Creek, California's, Katie Volynets looked across the net during the USTA Girls 12 National Championships last week at the Windward Lake Club in Alpharetta, Ga., she saw something she wasn't accustomed to seeing.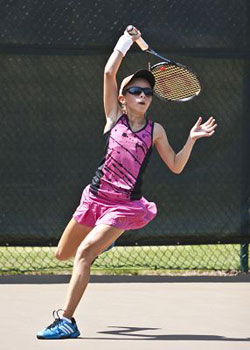 Girls 12 Singles Champion
Katie Volynets
© Julie Wrege, TennisRecruiting.net
An opponent her own age.
The 12-year old, soon-to-be-seventh-grader has spent some of the last year playing adult tournaments and practicing with college players.
Volynets said it was different playing her peers, and she felt some added pressure.
"It was a little more pressure since I've been playing against more experienced players and seeing what level they are. This week was good because I feel if I play and deal with pressure, and still keep my focus, then I'm ready for anything."
She was ready for anything thrown at her this week; as the top-seed, she used her experience to defeat sixth-seeded Sedona Gallagher 6-0; 6-3, to claim a gold ball and the 2014 USTA Girls 12 Championships.
Volynets came through the draw unscathed, losing no more than six games in any match.
"I really enjoyed every moment of it," admitted Volynets, who said she came to Georgia with one goal - to win the tournament. "I was able to keep my concentration on every point."
That, along with taking the ball on the rise, is something she has been working on with her coaches, Mark Orwig of the Moraga Country Club and Richard Thompkins of Tompkins Tennis.
"I was hitting the ball too flat," said Volynets. "I made an effort to hit it on the rise off both sides, and it worked."
Even in defeat, Gallagher, playing out of Las Vegas, Nevada, said she was pleased with her week.
"In the finals, Katie just out-played me," stated Gallagher, who defeated the No 2 seed, Gabriella Price 6-4; 6-1 in the quarterfinals. "I played pretty well the entire week and had an awesome time at this tournament."