Tournament Summary
First American Collegiate Invitational Popular Addition to US Open
by
Colette Lewis
, 19 September 2014
Any tournament with a prize that could include a US Open main draw wild card will draw the top college players regardless of its venue. Put that event at the USTA Billie Jean King National Tennis Center during the second week of the US Open and interest surges, as it did for the inaugural American Collegiate Invitational earlier this month.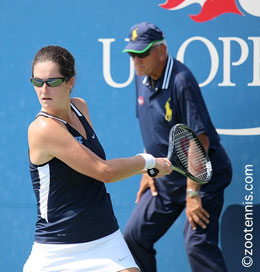 American Collegiate Invitational Champion Jamie Loeb
©
ZooTennis
2014 ITA Players of the Year and top seeds Marcos Giron of
UCLA
and Jamie Loeb of
North Carolina
won the titles at the three-day event, held on newly constructed Courts 5 and 6 located at the West part of the National Tennis Center grounds. With their victories, Giron and Loeb have secured qualifying wild cards for the 2015 US Open, and if by next summer their ATP and WTA rankings are 250 and 150 respectively, those qualifying wild cards will become main draw wild cards.
"For the first year of the event, we think [the wild cards offered] certainly served as a catalyst to assure that it would be a really competitive tournament, not just a showcase or an exhibition," said the USTA's Bill Mountford, the tournament's director. "It had to mean something, and we think it's accomplished that. It's a nice segue from the standard and level that they played at to the level they wish to play in the future."
The proximity to the household names at the sport's highest level helped drive that point home.
"The players themselves have been inspired to be at the practice courts next to Federer or Wozniacki, booking courts and you bump into Novak Djokovic or Serena," Mountford added. "That's clearly where these players wish to land some day. It's probably useful for them to be in the gym, to see the training and the work, eating with them in the players' restaurant. Seeing what the best players in the world do is pretty useful."
No. 2 seed Hayley Carter, a sophomore at North Carolina, lost her opening match to Stanford graduate Kristie Ahn, but didn't dwell on that disappointment.
"This morning I got to practice next to Wozniacki, Serena and Berdych," Carter said. "It was a tough day today, but I can't hang my head too much."
Carter also spoke of the camaraderie she felt with the other 15 Americans competing in the event.
"We all push each other, we all have the same goals and dreams - we want to be professional tennis players," said the 19-year-old from Hilton Head, South Carolina. "We're kind of like a little family - Team College is what we call it. I have a team at UNC and I also have a team at USTA. I'm very blessed to be a part of this."