Who's Hot?
Prince Hot 100 List - November '14
by Amelia Thomas, 17 November 2014
Fall Signing Week has advanced some and inspired many. Junior tennis players are working harder than ever, even in the cold months. We recognize some of the top performances in this month's Prince Hot 100 Lists.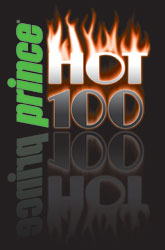 The Prince Hot 100 lists are published each month, and the November Hot 100 lists feature the one hundred boys and girls who most improved their rankings during the month of October. You can find out more about the Prince Hot 100 - and how the lists are calculated - by reading here.
The latest lists, published last week, are available here:
Check out some of these top performers...
Roundup
Victoria Roberts (Ridgeland, Miss.)
Three-star senior Victoria Roberts has had a long and complicated tennis journey. She enjoyed great success at an early age, but began to split her time between basketball and tennis in high school.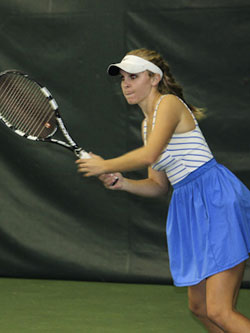 After her sophomore varsity basketball season, she decided to return to tennis full-time. In order to make up for lost time, Roberts worked very hard, and she ended up with a stress fracture in her right fibula. This sidelined her for almost six months, which she spent getting into shape by swimming.
At the beginning of her junior year, Roberts began working with Courtenay and TJ Middleton of the River Hills Club. She has a strong commitment to her club, which she says sets her apart from her peers.
"River Hills Club consists of my family, my coaches and my friends that support me 100 percent. From the moment I walk into the indoor center, I feel at home," Roberts said.
The Ridgeland, Miss., native believes that the support of her family has made all the difference in her game. "My parents have played a very crucial part in my junior tennis development," she said. "It is a very unique feeling to have every person in your family play tennis, and I am very blessed to be where I am."
Roberts credits her growth to hard work over the summer. "During the summer, there was a lull in tournaments for me, and I worked for about a month and a half to improve weaknesses in my game," she said. "When I played my first fall tournament in the middle of September, I began to notice my level of play increasing with every tournament I played."
The five-foot-seven player has kept up the good work and competed in three tournaments last month. She won a title at the Chick-Fil-A Open State Championships and the playoffs of the River Hill Junior Open. Her high performance earned her a 10-4 record for October.
With her recent success, Roberts is focusing on her future tennis career. She has verbally committed to play at Arkansas State University.
"I am very excited for this new type of tennis experience that I will have beginning next fall. I am also excited to play tennis in a team setting," she said. "I am hoping to continue my growth as a tennis player as well as my growth as a person over the next four years."