Commitment Profile
Countdown: Golovin Geauxs to Tigers
by
Colette Lewis
, 7 November 2014
Blue chip recruit Jessica Golovin didn't give much thought to college tennis until this summer. The top recruit from New York was thinking only of pro tennis until a discussion with her coach and an official visit to LSU convinced her she would be wise to spend the next stage of her tennis career in Baton Rouge.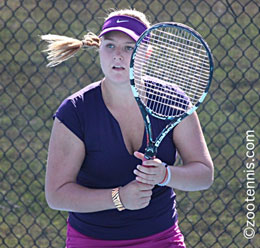 "I wasn't even looking to play college tennis until recently," said the 17-year-old right-hander, who lives on the Upper Westside in Manhattan and trains at the
John McEnroe Tennis Academy
. "I was being recruited by some coaches but I wasn't sure whether it would be college or professional tennis. It was always there, but I was no, we're going pro. But my coach sat us down, told us everything, explained the whole situation, why this would be better. And that's why after a while, we understood. My parents were still kind of on the pro side, but then we saw all these great players still going to college, so we said let's sit down and think about it."
One of the first students at the McEnroe Tennis Academy when it opened back in 2010, Golovin began working with Felix Alvarado there last winter. Alvarado had coached North Carolina sophomore Jamie Loeb and that experience was critical in getting Golovin to consider college.
"I was coaching Jamie for three years before she went to college and I think Jamie was in a better position than Jessica is right now," said Alvarado, the academy's Assistant General Manager of Tennis Operations. "I explained to her that it's very hard to make it right away; it might take a few years. So going to college and playing in a team environment, growing and maturing a little more before going on tour, would be more beneficial for her."
Ranked in the top 20 in her Tennis Recruiting class throughout high school, Golovin had plenty of scholarship opportunities, but she was unsure how to process all the information she was getting from coaches.
"Some coaches had contacted Felix, so we sat down and looked at a few," Golovin said. "He said there's this school, this school, this school and LSU was one of them. We sat down and talked to three or four schools. I met with [head coach] Julia [Sell] at Clay Courts and from that point on I liked the school."
LSU had an advocate at the McEnroe Academy, with Mark Bowtell, a former member of the Tigers men's tennis team, employed as a coach there. Bowtell knew Sell and her husband Mike, who serves as the program's volunteer assistant when he is not coaching John Isner.