College Feature
Q&A with Ed Silver of Penn
by
Harry Cicma
, 15 January 2015
Follow Harry on
Twitter
Edward Silver was a standout junior tennis player and student when he enrolled at the University of Pennsylvania for the 2002-03 season. Silver was known for his work ethic and perserverance as a member of the Penn squad from 2002 until 2006.
Harry Cicma of NBC Sports recently got the chance to talk with Silver about topics around college tennis.
Questions and Answers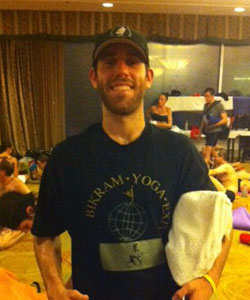 Former
Penn
player Ed Silver
Harry Cicma (HC): What did you enjoy the most about playing Division I college tennis in the Ivy League?
Ed Silver (ES): I enjoyed the exercise, movement, playing outside in the sun, the breeze, even working on trying to improve in the rain. I enjoyed the camaraderie, and the friends I made. Division I tennis is an amazing experience.
HC: What did you feel was the biggest step up from junior tennis to college tennis?
ES: College tennis is a big step up from juniors on the whole. College players are more experienced, with a greater body of work and more tricks up their sleeves. Sometimes college students are less motivated, and sometimes they are more motivated - just like in juniors.
HC: What advice would you give a young player who has dreams of playing top-level college tennis?
ES: If you are looking to make it to college tennis, I would suggest following in the footsteps of older players who are in the position you may want to be in. Pick their brains for information. Read Winning Ugly. Do periodic action training. Read The Science of Self-Realization by Prabhupada. Focus on your goal but develop a full life. Make friends at school and at practice. Treat everyone with compassion, and they will want to see you succeed. And, as my friend Harry Cicma says, "Work hard and go for what you love!"
HC: You now work in Bikram Yoga. How does this help someone thrive in the sport of tennis?
ES: Bikram Yoga would cut down on greater than 50% of all injuries that juniors, collegiate players and pros endure due to the grind of tennis training. Bikram Yoga gives individuals who utilize it a huge leg up on the competition in terms of ability to focus, concentration, patience, determination and faith. It helps you breathe better. You will be victorious with Bikram Yoga - why else would Andy Murray, John McEnroe, Serena Williams, and Chris Evert all use it?
About K-Swiss
College Content at TennisRecruiting.net is sponsored by K-Swiss.
At K-Swiss we are 100% invested in the sport of Tennis and committed to helping players play their very best and win at every level. From a competitive junior or adult player to the greatest doubles team of all-time, Mike and Bob Bryan. For over 50 years we have been making some of the most innovative, high quality tennis footwear in the game featuring the very best in comfort with a consistent fit.
We encourage you to try the K-Swiss shoe that is best for your game.
Connect with K-Swiss on Facebook, Twitter, and YouTube - or on their website.
Leave a Comment
More College Coverage
10-Sep-2019
Backed By Players, Whitlinger Promoted to Furman Head Coach
The Furman men's players wrote emails and met with administrators championing the promotion of J.J. Whitlinger to head coach of the program. The support helped boost Whitlinger's spirits during the long coaching search process, which ended with him getting his first chance to be a head coach.
21-Aug-2019
Anghelescu Empowered to Become Penn State's Head Coach
Alexandra Anghelescu attended a WeCOACH conference in Denver right before she interviewed for the Penn State women's head coaching job this summer. The experience gave her confidence she was ready to lead a program.
20-Aug-2019
Sheehy, Rogers Capture ITA National Summer Titles
Seniors Jonathan Sheehy of Abilene Christian University and Anna Rogers of N.C. State captured the singles titles at the ITA National Summer Championships in Fort Worth, Texas. Sheehy also teamed with Texas Tech's Parker Wynn to win the doubles title.
About Harry Cicma
When it comes to college tennis, Harry Cicma is your man. Cicma covers tennis and other athletic stories for
NBC Sports
, writing articles and producing video segments.
He is co-founder and host of World Tennis a weekly tennis show on NESN, and host of of Tennis Live Radio's College Corner.
Cicma competed as a junior in USTA/New England and went on to play college tennis at Rutgers University. As a professional, Cicma competed at the ATP Newport tournament and the San Jose Siebel Open. He reached a career-high #75 in the ATP doubles team rankings and #1262 in the ATP Entry System.
In media, Cicma has run the gamut. He has worked for NBC, CBS, ABC, ESPN, FOX Sports Net, the Tennis Channel, and World Team Tennis. Cicma has announced NCAA sports as well as the US Open Tennis Championships on both TV and radio.