College Feature
Columbia Upsets Notre Dame, 4-2, in ITA Kickoff Weekend
by Lizzie Mikes, 27 January 2015
Media Services Coordinator, University of Notre Dame
The University of Notre Dame men's tennis team knew they would face stiff competition as they prepared to host during ITA Kickoff Weekend; what they couldn't have foreseen was a come-from behind upset victory by another top-16 team. Sunday afternoon, in a match that lasted almost four full hours, the Irish were toppled by Columbia, 4-2, who advanced to the ITA Indoor Championships in February with the win.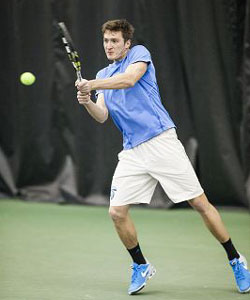 "I think this is a very good win for us; you know, we beat two very good, top-ranked teams this weekend," Columbia's head coach Bid Goswami said. "I called this the 'Group of Death' on our way here, because you have the 14, the 16, the 17 and the 24 teams all playing one another. Everybody had to play very well, and we played two very good matches.
"I'm very proud of the way our guys fought," Goswami continued. "We lost the doubles point in both matches, but we came back to win it in the singles. So it's a very good team effort for us; everybody did their part."
Saturday the Lions came back from a deficit on several occasions against the Tennessee Volunteers, first losing the doubles point and then going down 2-0 as junior Eric Rubin fell to Jess Jones, 6-2, 6-2 in the sixth singles position. Senior Ashok Narayana earned the first point for Columbia with his straight-set victory over Luis Valero, 7-5, 6-2 in the fourth singles match.
Not about to let victory escape so quickly, Tennessee's Mikelis Libietis - who ranks No. 16 in the nation - out-lasted Columbia's ace Winston Lin (himself ranked No. 22) at the first singles position 3-6, 6-1, 6-2. Now down 3-1, the Lions quickly stormed back to tie the match 3-all with wins on the third and fifth courts. The match came down to Dragos Ignat at the second court, who took the first set 6-4 and shook off a 5-7 loss in the second set to power home a decisive 6-2 win in the third and clinch the win for Columbia.
Sunday, the Lions also went the distance when facing the Irish, as two of the three doubles matches went in to tiebreakers and all six singles courts went to third sets.
"I'm really proud of our team; we played our tails off; we knew it was going to be a great match," Irish head coach Ryan Sachire said. "We were right there with them until the last ball, and when you have two doubles matches decided by tie-breakers and then all six singles matches go to three sets - they might have out-performed us at the end but we have to hold our heads high. We played a great match and competed the right way, and I'm really proud of what we did."
About K-Swiss
College Content at TennisRecruiting.net is sponsored by K-Swiss.
At K-Swiss we are 100% invested in the sport of Tennis and committed to helping players play their very best and win at every level. From a competitive junior or adult player to the greatest doubles team of all-time, Mike and Bob Bryan. For over 50 years we have been making some of the most innovative, high quality tennis footwear in the game featuring the very best in comfort with a consistent fit.
We encourage you to try the K-Swiss shoe that is best for your game.
Connect with K-Swiss on Facebook, Twitter, and YouTube - or on their website.