Special from
Division3Tennis.com
While the Division I National Indoors (men, women) wrapped up yesterday, there is plenty more great tennis to follow as Gustavus Adolphus hosts the Division III Men's National Indoor Tournament this upcoming weekend. The D-III Indoors tournament has had a history of great matches, upsets, and moments across the years, and this year should be no different. All eight teams competing have played at Indoor Nationals previously, making this a truly loaded Indoors field. We know experience is key in big moments, and we'll be lucky to see teams with a lot of big match experience as things get down to the wire.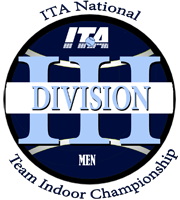 The format for the D-III tournament is a bit different as budget constraints and scheduling conflicts don't allow every team eligible to play. Unfortunately, due to conference scheduling restrictions, you will not see any teams from the dominant
NESCAC
as they are not allowed to play matches this early into the season. But don't get discouraged. This field has teams ranked No. 3 to No. 14, so the level of competition is extremely high.
Below is a brief synopsis of every team participating in the tournament. I'll briefly touch on each team's history, what to expect, and any other thoughts I may have. Remember, the D-III tennis site www.division3tennis.com will have continued in-depth coverage of Indoor Nationals, and we will have multiple detailed previews this upcoming week. This article will give you a great base if you don't have much experience in D-III tennis, and you can continue to join us as we live-tweet the tournament this weekend as well!
No. 8 Seed Gustavus Adolphus (No. 14 Nationally, Tournament Host)
Gustavus Adolphus has long been an Indoors staple, having won the tournament championship four times. The Gusties are back in the field after missing the tournament last year. Last year's team put together a very respectable season, ending the year at No. 14 nationally. The Gusties feature a relatively young team as they graduated three key players from last year's squad, and they actually feature a pair of brothers at the top of their lineup. This tournament will be a challenge for Gustavus, but they have historically gotten a boost playing in the comfort of their home bubble. Indoors always brings an upset and Gustavus is oftentimes the team that comes through out of nowhere. Don't rule out the power of home court advantage!
No. 7 Seed Kenyon College Lords (No. 12 Nationally)
Kenyon College is just two years removed from taking home the title in 2013, so they clearly know what it takes to win. Many guys that feature high in the lineup this year were a part of that team, so they know what it feels like to take home a championship. It has been a mixed bag thus far for the Lords as they upset Case Western earlier this year which will have them feeling good heading into this tournament. Unfortunately, they followed that with a convincing loss to a young University of Chicago team. A first round match against the defending indoor champions Wash U is a tough draw for anyone, so I expect Kenyon to be looking to do damage in the back draw.