College Feature
Oklahoma Wins ITA Men's Indoors With Victory Over USC
by James Hill, 20 February 2015
Chicago - University of Oklahoma sophomore Alex Ghilea was the man of the hour at the ITA Division I National Men's Team Indoor Championship Feb. 16.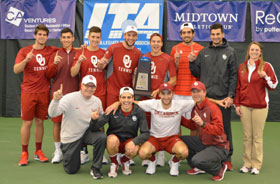 Ghilea, from Neamt, Romania, clinched the Sooners' victories in both the semifinals and championship matches with comeback wins at No. 5 singles at the
Midtown Athletic Club
. Second-ranked Oklahoma defeated No. 11 and conference rival
Baylor
4-2 in the semifinals, with Ghilea beating Mate Zsiga 4-6, 7-5, 6-0. The win propelled Oklahoma into the championship matchup with No. 1
Southern California
. The Sooners beat the Trojans 4-2, and Ghilea defeated Max De Vroome 6-3, 4-6, 6-3.
"Somebody called me 'the clincher" from the crowd," said Ghilea in the post-championship match interview of the 16-team tournament. "I like that. To clinch again is just amazing. I'm very thankful to be here, thankful to play for such a great team, with great chemistry. To get revenge, it's just amazing."
The revenge to which Ghilea referred involved last May's NCAA Championship match at Athens, Ga. USC captured its 21st team title with a 4-2 come-from-behind win over Oklahoma. It also marked the fifth NCAA Championship under Trojans head coach Peter Smith.
In Chicago, John Roddick's Sooners took a 1-0 lead over the Trojans at the ITA event by winning two of three doubles. Dane Webb gave Oklahoma a 2-0 straight-sets nod on the No. 3 singles line. Erick Johnson kept USC in the match by winning No. 4 singles, but Axel Alvarez won No. 2 singles as the Sooners led 3-1. USC was not going down without a fight, however, as Nick Crystal won a three-setter in the No. 6 matchup. Ghilea played a forceful third set at No. 5, as Oklahoma brought home its first ITA team title to Norman.
"I was focused on doing everything the coaches told me," Ghilea said. "I was very tired at the end of the third set, but I felt like I had to win."
Oklahoma entered the match with Baylor at a 1-0 deficit after doubles. But the Sooners captured Nos. 2, 3 and 4 singles to take a 3-1 lead. Felipe Rios of Baylor won No. 6 singles, followed by the No. 5 match won by Ghilea. The 5-foot-11 Ghilea started a comeback in the second set and won 11 consecutive games.
Roddick, in his sixth season at Oklahoma, was ecstatic for his players as they received the championship honors.