Special from
Division3Tennis.com
It's been a whirlwind the past two weeks with both the Men's and Women's Indoor Nationals being completed in the Midwest. If you have been following our coverage on Tennis Recruiting or been following on the blog, I'm sure that you all know that the matches both weekends were exhilarating.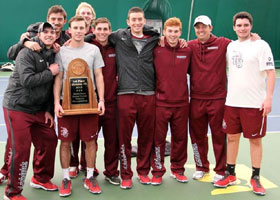 D-III Tennis has gotten to the point where there are enough good teams that make these tournaments very close, which of course makes for some great tennis. I'll be going through some details regarding the tournament later on, but I do think this was the best Men's Indoors to date, and the Women's Indoors provided some amazing matches as well. Without further ado, let's get into the details behind both awesome weekends just in case you missed it!
I'll start with the Men's Indoors. If you missed it, I actually wrote two separate previews going into more detail on www.division3tennis.com, both of which go into great detail on the weekend. Anyways, this was probably the best Indoor Nationals I've been a part of in my tennis and writing career. A fun fact from the weekend is that every match was within a 6-3 team score. I can honestly say that no team was out of a match until the other team actually clinched with their fifth point. As always, the weekend was filled with drama - we had rivalries rekindled (Emory vs. Wash U, Case vs. Kenyon), live video stream, and of course, another first time champion!
Speaking of the champion, Trinity (TX) had one heck of a weekend. They started off with a tough match against the home team, Gustavus Adolphus, where they battled in doubles but were fortunate enough to take a 2-1 lead. The Tigers eventually went on to win that match by the score of 6-3. In the semifinals, Trinity faced off against a highly-regarded and talented Johns Hopkins team. Again, the Tigers showed their doubles prowess by getting out to a 2-1 lead. With a few three set matches at the bottom of the lineup, senior Charlie Curtis clinched for them at No. 5 singles to propel them to the championship. In the finals, Trinity squared off against one of the favorites to win the tournament, the Emory Eagles. Emory's history as a program had me thinking they would pull it out, but the Tigers quickly put doubts to rest by going up again in doubles. Then, Adam Krull and Aaron Skinner, who play #1 and #2 singles, respectively, took out two of the best players in D-III, both in three sets. This was definitely a turning point in the match as the 4-2 lead Trinity was able to build was insurmountable in the end.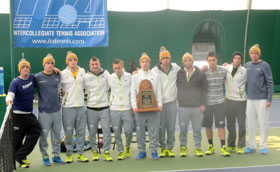 Trinity's program has long created a destination that promotes winning, teamwork, and brotherhood amongst the team members. This was not more evident than at Indoor Nationals, where the team debuted their team hashtag, #ForTheBoys, which was etched on their uniforms. They show a great connection with their reigning ITA Coach of the Year, Russell McMindes. In the end, Trinity used their deep team that features almost no weaknesses to overcome teams that were more star-driven. This is a team that almost reminds me of the San Antonio Spurs - a team of selfless players who play for each other and don't mind not being in the spotlight. This was a great win for the Tigers as they broke through with their first ever championship and things are absolutely looking up for them.
As for the rest of the teams, the order of finish was as follows: