Commitment Profile
Gators Suit Neel
by
Colette Lewis
, 24 April 2015
Sixteen-year-old Ingrid Neel moved from Minnesota to Florida three years ago to train at the IMG Tennis Academy in Bradenton. Ranked No. 2 in the class of 2016, Neel now considers herself a Floridian, a mindset that led her to verbally commit to the University of Florida Gators recently.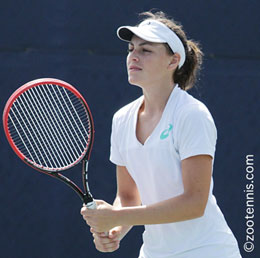 Gainesville's proximity to Bradenton was no small part of Neel's decision.
"Florida had everything I could possibly need, and I think I can really get better at tennis when I go," said Neel, who also considered Duke and North Carolina. "The girls are just really good hitters at practice and I feel they really want to work hard. Brooke [Austin] and Peggy [Porter] and Josie [Kuhlman] - I know them the best, and they are top, top juniors. So they're striving for major success and also it's a team that really wants to get better - like I do. I just want to take my tennis as far as I can. After college, I want to see if I can go on the tour."
Neel has already had success on the professional circuit, winning a singles title at a $10,000 tournament last year in Amelia Island, Florida and claiming two doubles titles last month at $10,000 events in Orlando and her future home of Gainesville, both with fellow IMG Academy student Fanni Stollar of Hungary.
A last minute wild card into the qualifying of the Miami Open back in March really boosted Neel's profile however, as she dominated WTA No. 85 Donna Vekic of Croatia 6-1, 6-2 to reach the second and final round of qualifying for the Premier event.
"Just two days before the Miami qualies started I got a note saying you can have the wild card from IMG, so we drove there, and I was really, really excited," Neel recalled.
"I prepared the best I could for less than 12 hours. I obviously didn't know anything about the girl, but I knew she was really good - had won a WTA event - so I had a clear plan in my game. I knew some people in the crowd, and there were people who were just randomly cheering me on, and before I blinked, I won the match. I played super well and didn't give her a chance to breathe once. I stayed the exact same throughout the entire match. I felt a sense of urgency to play really aggressive, and I didn't think about it at all."