College Feature
NCAA Tournament Roundtable - Part II
by TennisRecruiting.net, 8 May 2015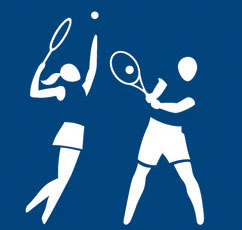 The NCAA Division I Tennis Championships start today. The top men's and women's college tennis programs face off in first-round action across the country, with all teams competing for tickets to Waco, Texas. and a spot in the Sweet 16. Those later rounds of the tournament take place May 14-19, with the championship matches contested on the 19th.
You can check out the NCAA Division I Championship brackets here (men, women). The D-II championships (men, women) start next week, with the teams working their way through regional play towards the championship rounds in Surprise, Ariz. The D-III tournaments (men, women) started yesterday - and continue today in Mason, Ohio. Finally, the NAIA championships (men, women) start May 12 in Mobile, Ala.
This past Monday, our college tennis contributors reviewed the field. Today, they return to comment on these regional rounds - and the teams that have a shot to go the distance.
Questions and Answers
Q) With only a couple of exceptions, the top 16 seeds always get to play the first two rounds on their home courts before 16 men's and women's teams advance to the National Championships. Last year, 29 of the 32 top seeds advanced. Name an unseeded team who you think has a strong chance to advance to the championship rounds in Waco.

Jonathan Kelley, On the Rise
Gotta go with Stanford for the men, with Cal a dark horse. I'll go with Notre Dame for the women.

Jeffrey McMillan, Tennis Atlantic
There will be several competitive regionals on the men's side. Oxford, Durham, and Chapel Hill should all be interesting, and Winston-Salem is one where everyone seems to be penciling in Wake Forest to the round of 16, but don't count out the Florida Gators. However, the regional where I believe the host is in most danger is Blacksburg, Va. The Virginia Tech Hokies had a watershed year and finished the year No. 15, a surprise to almost everybody. But they have been dealt a very tough draw if they are to make in to Waco. First off, they must face the most challenging No. 4 seed in ETSU, who is not the "show up and win" team that most of the 4 seeds are. Facing the Hokies in the second round is most likely going to be the USF Bulls. USF finished the year #18 after an incredible year. The match between Virginia Tech and South Florida should be the most tightly contested second round match in the whole tournament, and a 4-3 decision appears to loom. With USF's great experience on the road, the Blacksburg crowd should not effect them too much.

Rick Limpert, College Contributor
For the men, how about the Florida Gators and on the women's side, let's go with Arizona State.

Bobby Bayliss, former coach, Notre Dame Men
My best guess here is that either the Columbia - Georgia Tech winner, Texas Tech, or Stanford, with a slight edge to the Cardinal, as Duke has not fielded a healthy squad often this year. Duke will need to field a full lineup to advance.
For the women, I see little to separate No. 21 Clemson and No. 13 Alabama, with the doubles point looming large in that potential second rounder, and No. 19 Pepperdine could give No. 14 Stanford trouble. On the men's side, Mississippi State is a threat to North Carolina, and Texas Tech could end UCLA's amazing streak of making the Sweet 16 every year since 1999. Ole Miss has a tough task with both Georgia Tech and Columbia coming to Oxford.
Marc Lucero, Co-founder and Director of Tennis, RAMP Tennis Academy:
I think that things may get interesting in Lubbock - the LSU women went through the brutal SEC and are battle tested. Look for them to give Texas Tech all they can handle and squeeze through.

Marcia Frost, College Contributor
I would definitely keep an eye on the women's event at the University of Georgia. Duke, a former NCAA champion, could definitely be one to contend with. It wouldn't shock me to see what would look like on paper as a major upset, with Duke moving past Georgia.

Granger Huntress, Texas College Tennis
On the men's side, I think there are quite a few potential upsets in the second round, but I think the Duke Regional may be the most intriguing. The Blue Devils are tough, but have suffered a few losses recently, while Stanford has been on a tear the past month. Tennessee hasn't had been up to their normal standard, but they have a win over Georgia Tech who beat Duke last weekend.
I cannot really find an upset I am too confident of in the women's bracket. The closest things may be Ole Miss at Miami or LSU against Texas Tech in Lubbock, where the 15th and 16th seeds will have to get through a pair of teams that went through the SEC gauntlet.

Julie Wrege, TennisRecruiting.net
On the men's side, the Florida Gators have to win two tough rounds to make it to Waco, but Coach Bryan Shelton may just pull off the upset of the #12 seeded Wake Forest in Winston-Salem.
The LSU women's team won 8 of their last 11 matches, so they could come through Lubbock and march on to Waco.

Tony Minnis, Inside College Tennis host:
On the men's side, I think that Mississippi State has a good shot to get through North Carolina. The Bulldogs have had a great season with wins over Georgia, Ole Miss, and Florida, and after going through the SEC schedule, the Bulldogs should not be fazed by any teams on the road. On the women's side, I am going to go with Clemson at the University of Alabama. Clemson seems to be a very dangerous team this year by losing several very close matches to top teams.

Bobby Knight, College Tennis Today
Since at least one unseeded mens team has made it the Round of 16 every year since the tournament expanded to 64 teams back in 1999, I'd be foolish not to expect it to happen again this year. I actually think two unseeded teams make it this year - I look for Stanford to come out of the Duke regional against a banged up Duke team, and I look for Columbia to go into SEC territory for the second year in a row and come out victorious. South Florida and Mississippi State will also be good candidates, but I think Virginia Tech and North Carolina pull through at home.

Sonny Dearth, Daily Press
For the men, Georgia Tech. If the Jackets aren't too drained from their ACC run, they can beat Columbia and will be a threat to knock off No. 14 Ole Miss in the round of 32. No. 10 Duke will have a tough second-round match, too, against Stanford or Tennessee.
For the women, I think a potential Clemson match against No. 13 Alabama in Tuscaloosa could be a classic. The Tigers weren't an easy out in the ACC.
Q) This year there seems to be a bit more parity in college tennis - especially toward the top. On the men's side, the top four seeds have combined for 14 losses on the season, and there are 12 such losses on the women's side. There are no undefeated teams in either field. I'm going to put you on the spot... name one of the champions and pick a darkhorse for winning the hardware on May 19 in Waco.

Lisa Stone, ParentingAces.com
I think this is coach John Roddick's year to take home the big trophy. His Oklahoma team has battled some very tough opponents this season and has come out on top more often than not. They are hungry to win, and I think the championship is theirs for the taking. They've come so close in recent years, and I'm sure they've learned a tremendous amount from those losses that will help them find a more favorable result this year.
In terms of a darkhorse, and I'm not sure these guys really qualify, I'd have to pick Wake Forest. With Noah Rubin in the No. 1 position, this team seems to go into dual matches with incredible confidence and poise, and I think they could pull off the upset.
Dearth: Coming off last year's runner-up finish and gaining a No. 1 seed this season with plenty of clutch play, the Oklahoma men have never been better positioned to win the NCAA crown. But because they'd be at home, I give a slight nod to the Baylor Bears. A darkhorse choice is ACC tournament runner-up Wake Forest, whose No. 12 seed belies how good the Demon Deacons are.
On the women's side, I think North Carolina will bounce back strongly and capture its first NCAA women's team title, but it wouldn't shock me if ninth-seeded Virginia was the Tar Heels' foe in the final. That would be a third meeting of the season between two programs that look like they'll be in the top 10 for the foreseeable future. Despite their seeding, UVa has outscored UNC 7-5 in team points head-to-head this year.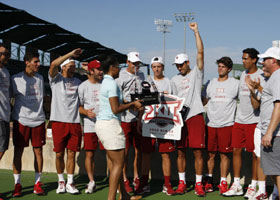 Knight:
At this point it'd be hard to pick anybody but
Oklahoma
since they've proven themselves time and time again - they know how to win the close matches, and if they face
Baylor
again in the finals I think they'll make it 5 for 5. My darkhorse on the men's side is the 8 seed
Georgia
- the Bulldogs are strong top to bottom and can go toe-to-toe with anyone. If they make it the quarterfinals I think they match up fairly well with Oklahoma, and I could see a 4-3 type of match. Whether they can win the close matches is another story that only they can answer.
Minnis: On the men's side, I am going to go with the host Baylor as champion and a dark horse would be the Trojans of USC. It's hard to count them out based on their recent success.
On the women's side, I am going to go with USC as champion and a dark horse would have to be Stanford - who traditionally steps up during tournament time.
Wrege: The No. 9 seeded Virginia women finished the season in fine fashion, winning nine of their last ten matches and upsetting the undefeated UNC Tar Heels in the ACC finals. If the UVA women can come out of the top quarter and make it to the final four, I would not put it past them to go all the way.
I cannot imagine the men's final not being between the Oklahoma Sooners and the Virginia Cavaliers. I see both of them making the final, and I think this match will be electric.
Huntress: I'm taking Oklahoma for the title on the men's side. For a darkhorse, I will go with USC.
For the women, I am torn, as heat will definitely be a factor in Waco. I am going with North Carolina. I always seem to pick Stanford as my dark horse, so I will switch it up and go with Vanderbilt. They are on a hot streak and appear to be able to compete with anyone. I know they are ranked fourth, but back in mid-March they weren't even in the top-10.
Lucero: I think UNC breaks through and wins it all on the women's side. For the men, I like Virginia. Looking at dark horses, I like the Vanderbilt women and TCU men.
Lewis: Although Oklahoma has two losses this year, the Sooners seem to come up with their best play when it matters most, so they are my pick, although Virginia, if everyone is healthy, is right there as a favorite too. As for a dark horse, Texas A&M has dealt Oklahoma one of those two losses this year, so the Aggies are certainly capable of shaking up the draw.
The
North Carolina
women reached the final last year and went through the regular season undefeated, so I can't pick against the
2015 Indoor Champions
. But defending champion
UCLA
, seeded No. 7, is more than a dark horse. If Bruin Jennifer Brady is 100 percent, that projected quarterfinal match with North Carolina - a rematch of last year's final, with nearly all the same players competing - is not to be missed.
Virginia, the only team to beat North Carolina this year, is seeded No. 9, which means a tough path through the draw. But their talent makes them a classic dark horse, who have traditionally done well in May. The last time the top seed won the women's team title was 2006.
Bayliss: In trying to pick a winner it is difficult to argue against the No. 1 and No. 2 teams, Oklahoma and hometown host Baylor, but remember that the last six years have gone to UVA and USC [5 times]. Peter Smith has shown the ability to get his team ready for success in a way not seen since the Dick Gould era at Stanford. We lost to Dick's Cardinal team in the 1992 NCAA final in Athens and their focus and preparation were tremendous. Look for hot, steamy weather in Waco which is something to which the Big XII schools are accustomed. If North Carolina is healthy they have the talent to beat anyone on the right day.
Limpert: I think the champions are Oklahoma for the men and North Carolina rebounds from that loss at the ACC tournament to claim the national title. A men's darkhorse would be Illinois, and a women's darkhorse would be the NCAA host team, Baylor.
McMillan: There are a good number of teams this year that are capable of taking home the national championship on the men's side. More so than in previous years where in reality only 2-3 teams were capable of winning it all.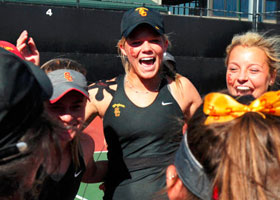 This year I am going to go with the
Oklahoma Sooners
to back up their No. 1 ranking and win the national championship. They have hurdled every obstacle thrown their way this year. Their two losses (To
A&M
and
Texas Tech
) were letdown matches for them, and in the NCAA tournament there are no letdown matches. In every big match this year, the Sooners have come out on top. The new doubles pairings devised by John Roddick for the Big 12 tournament have been impressive in the infancy stage, and it may be the cure to Oklahoma's lone weak spot. If the Sooners can start taking the doubles point in big matches, it will be very hard for any team to take 4 out of 6 singles courts from them. Axel Alvarez is playing better than anyone in the nation right now, I don't expect that to end outdoors in the heat in May. You can count on Dane Webb to be a rock at No. 3 as a senior looking to take home a national title, and with Spencer Papa finally getting into form at No. 5, Oklahoma will not be beat this year in Waco.
A dark horse to take home the national title is the TCU Horned Frogs. Waco is not all that far away from a hotbed of TCU tennis fans who will likely make the trip south for the round of 16 onwards. Yes, TCU will likely face a tough task in beating Wake Forest in the round of 16, but they match up favorably with Illinois in the quarters if they are to get there. Nick Chappell has been playing impressive tennis recently, taking some of the nation's best players to the wire (however, if the match is 3-3, history suggests that you may not want to have Chappell out on court if you are a Frog fan). Guillermo Nunez has been one of the best Freshmen in the country, and Cameron Norrie has played himself back into form recently to make for a strong player at No. 3. The Horned Frogs are very strong from 4-6, and it is their depth that is their true strength. They can take on anyone 4-6 in the nation. If the cards fall right, TCU could be the shocking national champion just one year after missing out on the NCAA tournament.
Kelley: For champions, I'll take the Oklahoma men and UCLA women. My darkhorses are Illinois on the men's side and Michigan on the women's side.
About K-Swiss
College Content at TennisRecruiting.net is sponsored by K-Swiss.
At K-Swiss we are 100% invested in the sport of Tennis and committed to helping players play their very best and win at every level. From a competitive junior or adult player to the greatest doubles team of all-time, Mike and Bob Bryan. For over 50 years we have been making some of the most innovative, high quality tennis footwear in the game featuring the very best in comfort with a consistent fit.
We encourage you to try the K-Swiss shoe that is best for your game.
Connect with K-Swiss on Facebook, Twitter, and YouTube - or on their website.
Leave a Comment
More College Coverage
10-Sep-2019
Backed By Players, Whitlinger Promoted to Furman Head Coach
The Furman men's players wrote emails and met with administrators championing the promotion of J.J. Whitlinger to head coach of the program. The support helped boost Whitlinger's spirits during the long coaching search process, which ended with him getting his first chance to be a head coach.
21-Aug-2019
Anghelescu Empowered to Become Penn State's Head Coach
Alexandra Anghelescu attended a WeCOACH conference in Denver right before she interviewed for the Penn State women's head coaching job this summer. The experience gave her confidence she was ready to lead a program.
20-Aug-2019
Sheehy, Rogers Capture ITA National Summer Titles
Seniors Jonathan Sheehy of Abilene Christian University and Anna Rogers of N.C. State captured the singles titles at the ITA National Summer Championships in Fort Worth, Texas. Sheehy also teamed with Texas Tech's Parker Wynn to win the doubles title.