College Feature
Illini Hold Off Drake for Sweet Sixteen Berth
by Marcia Frost, 12 May 2015
It was two days filled with rain delays and later than expected matches. Fortunately, the heavy storms stayed away from the University of Illinois as the Illini men squeaked by Drake to once again head to the Round of 16 at the NCAA Division I Team Championships. It will be their eighth trip in the last 10 years.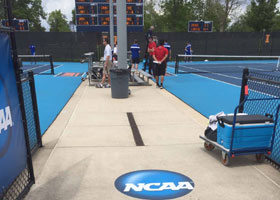 Regional play started outdoors at the Khan Center
© Marcia Frost
The first match of the tournament took place at the Khan Outdoor Tennis Center Friday afternoon. Neither
Louisville
nor Drake had that far to go to the Urbana campus. Both teams brought along some fans, but it was mostly Orange and Blue in the stands waiting for the Fighting Illini.
It would be a long wait. The doubles ran close throughout, taking over an hour and not even finishing. It would be Louisville taking the point, with Albert Wagner and Alex Gornet garnering the first win over Ben Mullis and Allen Salibasic, 8-7 (6). It was followed by a win on the first court by Seb Stiefelmyer and Van Damrongsri at 8-6 past Ben Lott and Bayo Philips. The No. 3 court would be left unfinished, tied at 7-7.
The singles matches were delayed multiple times and finally brought indoors, where Drake turned the tables and took command with quick wins by Ravi Patel and Salibasic. Michael Lippins would give Louisville one more point, but it wasn't enough as Mullis and Lott both prevailed after losing their first sets.
After the 4-2 win by Drake, Illinois was finally able to get on the court, indoors. It was after six in the evening and that meant Jared Hiltzik, who had scheduled an exam for 7:00 pm, was out of the match. Fortunately, the team was deep enough to go without him.
Wisconsin-Green Bay took the court for the doubles, which didn't last long. The point was secured after 8-2 and 8-3 wins by the Ilini's top two teams.
Singles was also an easy process for the home team, who took their 4-0 victory with wins by Ross Guignon, Aleks Vukic, and Farris Gosea, respectively.
It was hoped that the round two match on Saturday could get in before the rain came, but it began sprinkling soon after the extremely tight doubles match between the Drake Bulldogs and the Illini started.
Through a light drizzle, the No. 2 team of Gosea and Vukic took the first win, but Drake's top team of Lott and Bayo Phillips had the second. It would come down to the match on No. 3, tied at 5-5.