College Feature
Fall Signing Week '15: College Tennis - Pathway to Pro Tennis
by Dan Johnson, 13 November 2015
If you were going to dream up the ideal beginning of a professional tennis career, it might look very similar to the Jamie Loeb's reality.
Loeb, the former
North Carolina
women's tennis star and
2015 NCAA Division I Singles National Champion
, hit her first balls and won her first game as a professional in the iconic Arthur Ashe Stadium on the grounds of the USTA Billie Jean King National Tennis Center, site of the US Open.
While the end result of Loeb's professional debut was a loss at the hands of former world No. 1-ranked player Caroline Wozniacki, the moment will be one Loeb takes with her the rest of her life.
Loeb's transition to the professional ranks admittedly wouldn't have been as smooth had she not developed both on and off the court while on the Chapel Hill campus.
"I needed to mature a little bit in college, get stronger physically and learn to be more independent," said Loeb, who won the inaugural American Collegiate Invitational in 2014 and 2013 Riviera/ITA Women's All-American and 2013 USTA/ITA National Indoor Intercollegiate Championship. "To have the team camaraderie and college experience, I'm really happy that I did it and now is a great time to pursue my professional goals, and hopefully achieve them."
As Loeb was beginning her professional career, another former college tennis star was showing the world that his years of hard work were paying off.
Kevin Anderson, the lengthy South African with a booming serve, reached a Grand Slam quarterfinal for the first time at the 2015 US Open and just last month, cracked the Top 10 in the ATP world rankings after turning pro in 2007. Anderson, who played collegiately for three years at Illinois, won an NCAA Division I Doubles National Championship with Ryan Rowe in 2006.
Everyone has their unique path, but I think one thing that's clear about college tennis is that there are tremendous coaches and a number of outstanding programs," said Anderson's college coach, Brad Dancer. "The opportunities provided by those universities and facilities and staffs, it's a situation where we are investing into student-athletes on a yearly basis. Clearly, the college route for some guys to professional tennis is the best path for them.
"I think most college coaches are proud of the vehicle we are offering players to make that transition. The fact that John (Isner), Steve (Johnson), Kevin and all these guys are having top careers and are able to earn a living in the sport, it's fantastic."
Today's current professional players with college ties are part of an exclusive and elite fraternity that includes the likes of Arthur Ashe, Patty Fendick, Stan Smith, Jill Craybas, John McEnroe, Lisa Raymond, Patrick McEnroe, Jimmy Connors, Nicole Gibbs, James Blake, Bob and Mike Bryan and Laura Granville to name a few.
"College is a great pathway to being a professional player," said Patrick McEnroe. "Today, you're seeing the best Americans now playing college and going pro. The average age for a player hitting their prime is later than it has been in years past, with some of top players going into their early 30's. Steve Johnson and John Isner are showing it is possible to play four years of college and be a top player."
McEnroe, who currently works as a tennis analyst and color commentator for ESPN, says that in a career that has spanned now four decades, he recalls moments from his college days more frequently than his professional career.
"College is just a wonderful experience, whether you go on to be a pro or not," said McEnroe, who helped the Cardinal win the NCAA National Championship in 1986 and 1988. Professionally, he won the 1989 French Open Doubles Championship with Jim Grabb. "For me, a lot of the great memories I have in tennis are from my time at Stanford. I remember being a freshman and playing in Georgia for the NCAA Championship and how incredible that experience was. You're pumping yourself up and at the same time, checking on your teammates and trying to support them as well. It's a unique experience that you don't get at any other level of tennis."
Another individual with vivid recollections of her college playing days is former Georgia Tech standout, Irina Falconi. Falconi, who is a Top 75-ranked professional player in singles and Top 125 in doubles, won the 2008 Riviera/ITA Women's All-American Doubles Championship and 2009 Singles Championship and was a three-time All-American.
"My fondest memory of playing at Georgia Tech was clinching the ACC title my sophomore year," said Falconi. "Funny story about that is that a week prior, I was talking to my girls and telling them how I'd never clinched a match before. The following week I was able to clinch [against North Carolina] and the entire team rushed me on the court. It was definitely the best moment of my career. Another exciting moment was winning the All-American doubles title my freshman year with Amanda McDowell. We had never played before, and that week the stars were aligned for us. We had so much fun from beginning to end."
As McEnroe mentioned, players like Isner and Johnson are showing that playing four years of college tennis isn't a detriment to professional success. If anything, it is a benefit. Virginia's Ryan Shane, the No. 2-ranked player in the 2015 Oracle/ITA Collegiate Tennis Men's Division I Preseason Rankings, will look to be the next former college player to achieve the same level of success ... after he completes his senior year in a Cavalier uniform.
"(Coach Brian) Boland runs an amazing program, so going back for another year, I just feel like I've been getting better every year and am on an upward trajectory," said Shane, who won the 2015 NCAA National Singles Championship and also guided the Cavaliers to NCAA National Championships in 2013 and 2015. "One more fight with my team; I think it was worth it go back."
Since August, Dan Johnson has served as the Director of Communications for the ITA. Johnson previously worked with the Mountain West Conference as the Assistant Director of Communications.
More Signing Week
Our coverage continues this afternoon at 3pm Eastern / noon Pacific with advice on the recruiting process from Tarek Merchant of ImRecruitable. Merchant gives great advice on how to get started with recruiting.
Come by for that article - and check out any other you might have missed - in our exclusive coverage of Fall Signing Week 2015.
About the ITA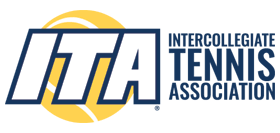 The
Intercollegiate Tennis Association
(ITA) is the governing body of college tennis, overseeing men's and women's varsity tennis at all levels - NCAA Divisions I, II and III, NAIA and Junior/Community College.
Comprised of nearly 1,700 men's and women's coaches representing over 1,200 institutions across the country from all three NCAA Divisions, as well as the NAIA and Junior and Community Colleges, the ITA oversees activities involving over 15,000 varsity college student-athletes. In addition to ITA collegiate coach members, the ITA welcomes collegiate varsity players, junior players, corporate, and affiliated membership of alumni, associate, college parents, conferences & associations, international federations, junior family and professional.
Connect with the ITA on Facebook, Twitter, Instagram, YouTube, or on their website.
About K-Swiss
College Content at TennisRecruiting.net is sponsored by K-Swiss.
At K-Swiss we are 100% invested in the sport of Tennis and committed to helping players play their very best and win at every level. From a competitive junior or adult player to the greatest doubles team of all-time, Mike and Bob Bryan. For over 50 years we have been making some of the most innovative, high quality tennis footwear in the game featuring the very best in comfort with a consistent fit.
We encourage you to try the K-Swiss shoe that is best for your game.
Connect with K-Swiss on Facebook, Twitter, and YouTube - or on their website.
About CrampsAWAY
CrampsAWAY is proud to sponsor the Countdown to Signing Day series of articles at TennisRecruiting.net.
What is CrampsAWAY Pro?
CrampsAWAY Pro is an all-natural, food-grade liquid supplement that can prevent or instantly stop cramps. CrampsAWAY comes in convenient single-serve packets, perfect for any athlete on-the-go. CrampsAWAY Pro is completely safe and free of any banned substances. It's also NSF Certified for Sport, so athletes can use it whenever needed, with the assurance that they are not putting anything foreign, unhealthy or illegal into their bodies.
Are any elite athletes using CrampsAWAY?
Absolutely! CrampsAWAY Pro has become the go-to cramp solution for many of the best athletes in the world; including pro sports teams in the NCAA, NFL, NBA, MLB and MLS. Also, many top ATP players use CrampsAWAY Pro as a competitive advantage, including John Isner, Jack Sock, James Blake and Tim Smyczek.
Connect with CrampsAWAY on Facebook, Instagram, Twitter, and YouTube - or on their website.
Leave a Comment
More College Coverage
10-Sep-2019
Backed By Players, Whitlinger Promoted to Furman Head Coach
The Furman men's players wrote emails and met with administrators championing the promotion of J.J. Whitlinger to head coach of the program. The support helped boost Whitlinger's spirits during the long coaching search process, which ended with him getting his first chance to be a head coach.
21-Aug-2019
Anghelescu Empowered to Become Penn State's Head Coach
Alexandra Anghelescu attended a WeCOACH conference in Denver right before she interviewed for the Penn State women's head coaching job this summer. The experience gave her confidence she was ready to lead a program.
20-Aug-2019
Sheehy, Rogers Capture ITA National Summer Titles
Seniors Jonathan Sheehy of Abilene Christian University and Anna Rogers of N.C. State captured the singles titles at the ITA National Summer Championships in Fort Worth, Texas. Sheehy also teamed with Texas Tech's Parker Wynn to win the doubles title.