Commitment Feature
Notre Dame Comes Calling for Koscielski
by Rhiannon Potkey, 6 October 2017
Maeve Koscielski was a little nervous and a little excited.
She had just received a text message from Notre Dame women's coach Jay Louderback asking her to call him once she got home from school.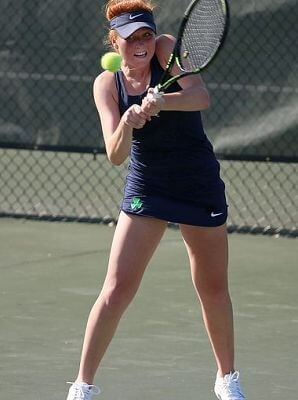 Maeve Koscielski Has Committed To Notre Dame
Koscielski had a feeling Louderback was going to offer her a scholarship, but wasn't entirely sure.
Her hands shook a bit as she picked up her phone, knowing a longtime dream could be fulfilled within a few seconds.
Koscielski, a five-star senior from Indianapolis, had grown up attending Notre Dame sporting events. Her father was raised in South Bend and her grandmother lives only a few miles from the Notre Dame campus.
Her great grandfather, grandfather, uncles and many other relatives graduated from the school.
Although Koscielski visited a few Big Ten Conference schools, her heart was set on extending the family legacy at Notre Dame.
She dialed Louderback's number and waited.
Once he answered and said the words Koscielski had been waiting to hear, she didn't hesitate in accepting the offer.
"I've always wanted to go there and play tennis there. It was very exciting," Koscielski said, recalling the conversation two weeks ago. "Jay has been amazing. I feel like he really cares about the girls on the team and not just winning, and I get along with the girls on team."