Special from
Zoo Tennis
Important goals accompanied top-seeded Americans Whitney Osuigwe and Andrew Fenty when they arrived at the University of Tulsa for the International Tennis Federation Grade B1 Pan American Closed. Osuigwe was hoping to retake the No. 1 position in the ITF Junior rankings, while Fenty was looking for his first Grade 1 title. Both succeeded in those quests, with Osuigwe defeating Natasha Subhash 6-4, 6-3 in the girls final and Fenty beating Emilio Nava 6-2, 7-5 in the boys championship match.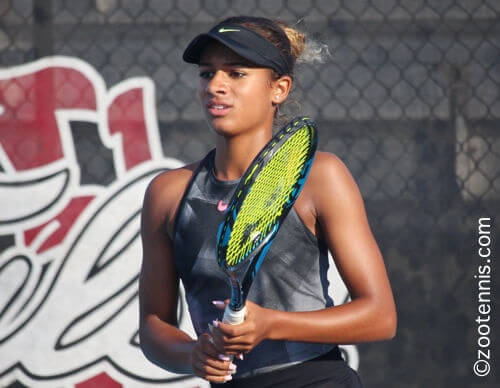 Girls Singles Champion Whitney Osuigwe
©
Zoo Tennis
Osuigwe, who was No. 1 in the ITF junior rankings for one week this summer, faced little drama in her march to the final, beating U.S. Open junior quarterfinalist Katie Volynets, the No. 9 seed, 6-1, 6-4 in the quarterfinals and No. 10 seed Margaryta Bilokin of Ukraine 6-2, 6-2 in the semifinals.
Subhash, the No. 3 seed, survived two three-set battles, in the round of 16 against Meg Kowalski and in the quarterfinals against Abigail Forbes. Subhash found her form in that quarterfinal match and went on to win 21 of the next 22 games she played, beating No. 14 seed Marlee Zein 6-0, 6-2 to advance to her first Grade 1 singles final.
In the championship match, played in unseasonably warm and increasingly windy conditions, the fast start belonged to Osuigwe. The 15-year-old from Bradenton, Fla. took a 5-1 lead, holding serve easily, while Subhash, a 16-year-old from Washington, D.C., twice dropped serve in four-deuce games.
Serving for the set at 5-1, Osuigwe didn't get to set point in that game, nor in her second attempt at 5-3. Neither girl was pleased with the chair umpire's calls throughout the first set, and Osuigwe appeared to lose patience serving at 5-3, particularly when what she thought were good first serves were called out.
"I think I let my emotions get to me when I felt the ref made a couple of bad calls," Osuigwe said. "She started playing better, and everything rolled over, but I kept trying to keep my focus and it wound up working for me at 5-4. I broke her earlier in the set, and I was coming close almost every single time on her serve, so I knew I just had to take care of the important points."