Pro Circuit Q&A
UNC Grad Schneider Finds Early Success on Pro Circuit
by
Colette Lewis
, 17 November 2017
CHAMPAIGN, Ill. - Ronnie Schneider began his collegiate career at the University of North Carolina with an impressive junior resume, having won the Kalamazoo 16s singles and doubles titles in 2011 and the Kalamazoo 18s doubles title in 2013.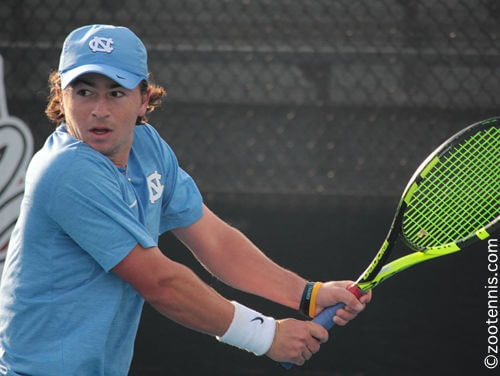 Ronnie Schneider Went 120-46 in Singles at UNC
©
Zoo Tennis
His success continued in Chapel Hill, with Schneider posting a 120-46 singles record for the Tar Heels, primarily playing the No. 2 position. The 5-foot-9 Bloomington, Indiana, resident was the Most Valuable Player in North Carolina's ITA National Team Indoor Championship in 2016 and helped the Tar Heels advance to the NCAA team final for the first time in their history in May of this year. Named the ITA's National Senior Player of the Year this spring, Schneider was All-ACC in both academics and athletics all four years, graduating this spring with a degree in Business Administration.
During the fall of his junior year in Chapel Hill, Schneider broke his leg, and while he was recovering from that injury, learned he would need wrist surgery after the spring dual match season. Although both the leg and wrist healed, allowing him to compete in the fall and spring seasons in his senior year, he had no ATP ranking when he began his pro career this June.
That changed quickly however, with Schneider picking up his first Pro title with a $25,000 Futures doubles championship in early July, then winning two more doubles titles this fall in $15,000 Futures tournaments in California. In October, the 23-year-old won his first Futures singles title at the $15,000 tournament in Fountain Valley, California, beating 2015 NCAA champion Ryan Shane in the final, and with a win at the $75,000 ATP Champaign (Illinois) Challenger this week, Schneider, who advanced to the main draw through qualifying, will move into the ATP Top 600.
In Champaign, I spoke to Schneider about his college experience, his first few months as a professional, and his timetable and goals as he navigates the Pro Circuit.
Colette Lewis: Your pro career has been underway for just a few months. Do you know if you're going to like the lifestyle?
Ronnie Schneider: I don't think anybody can really enjoy the traveling, but I think as much as I can enjoy it, the nice parts about it, I think I've been able to. I definitely don't mind it as much as I would have thought at first. I'm enjoying meeting different people, playing a lot of different tournaments and a lot of matches. It's definitely exceeded my expectations. I thought it was going to be super lonely, the grind of the travel and all that, but it really hasn't been as bad as I thought it was going to be.